Singapore Food Guide: 10 Must-Try Singaporean Food & Dishes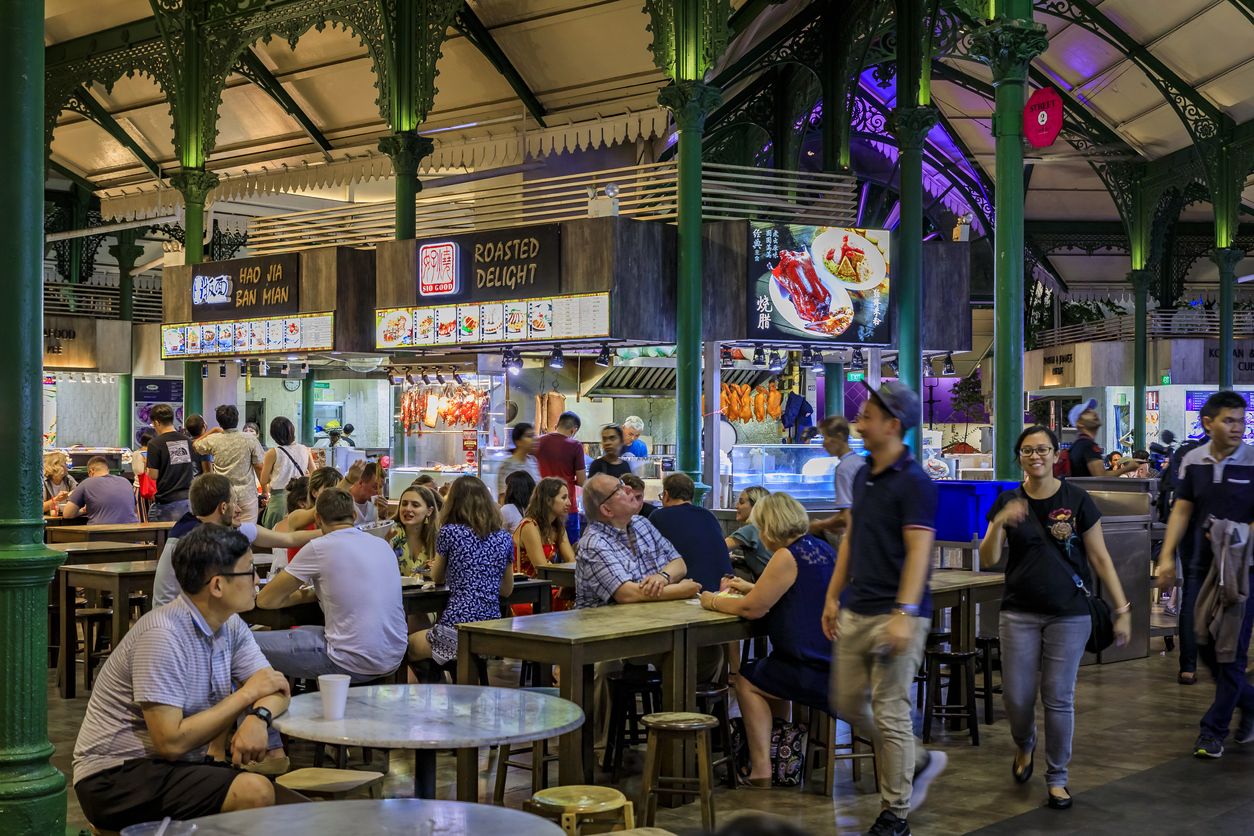 Singapore is a foodie's paradise. With influences from Malay, Chinese, Indonesian, Indian, and western cuisine, what is there not to love? Visit the open-air hawker centres that are the epicentre of the food scene in Singapore. Don't be fooled by its rustic nature. The no-frills melting pot of cuisine is guaranteed to fulfil any cravings, at a low cost. Enjoy comfort food at its finest when you come to Singapore. Here are the 10 must-try foods in Singapore.
---
1. Kaya Toast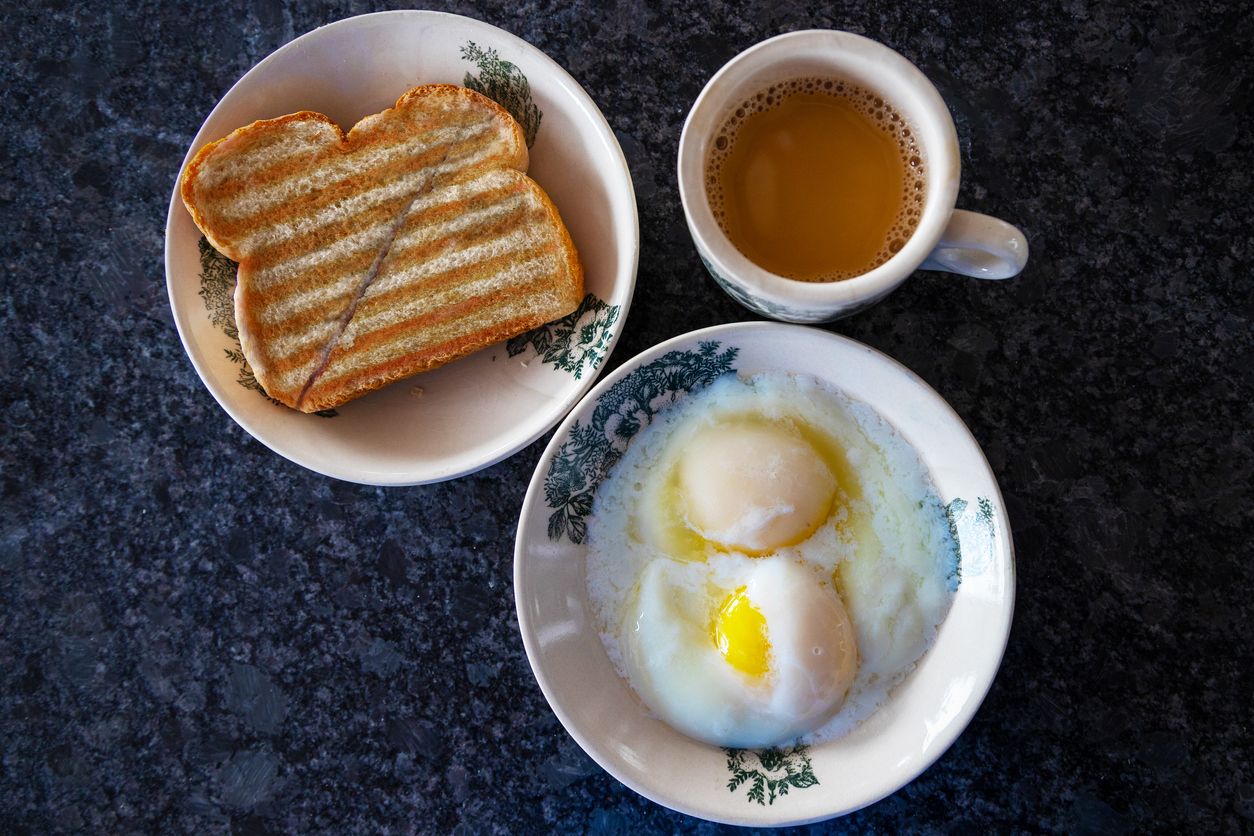 Start the day right by digging into a simple breakfast favourite. Imagine two pieces of light crispy bread stuck together by a slab of cold butter and a generous spread of kaya, a traditional jam made from coconut, egg, sugar, and pandan. Normally served with two soft-boiled eggs and dark coffee, the subtle sweetness of kaya provides a perfect contrast to the bitterness of coffee. The soft boiled egg, with its running yolk and translucent whites flavoured with a dash of dark soy sauce and white peppers, gives that extra savoury touch to balance the entire breakfast.
2. Chai Tow Kway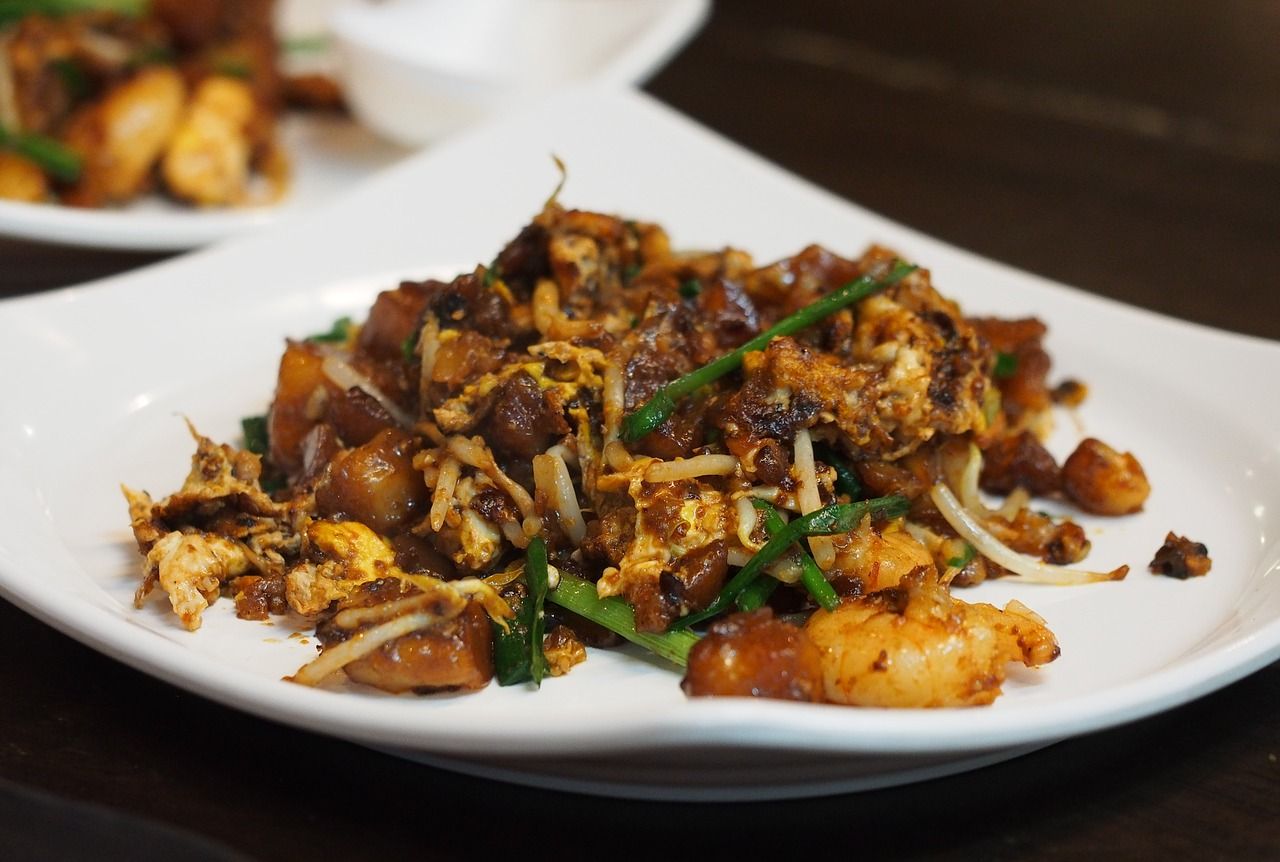 Originally from Southern China's Chaoshan province, Chai Tow Kway is a fried radish cake. The radish is first grated and steamed with rice flour before being chopped and fried with garlic, preserved turnips, and eggs. This must-try food can be found in nearly every hawker centre all over Singapore. For a lighter flavour, you can go for the 'white' version which has a beaten egg on top of it. The 'black' version, on the other hand, is cooked with a sweet soy sauce, resulting in a slightly stronger taste. Relish the smokey heat that comes from being fried using a wok, the crispiness of the preserved turnips, and the smoothness of the radish cake. Be sure to stop by for breakfast since most stores selling Chai Tow Kway only open in the morning.
3. Laksa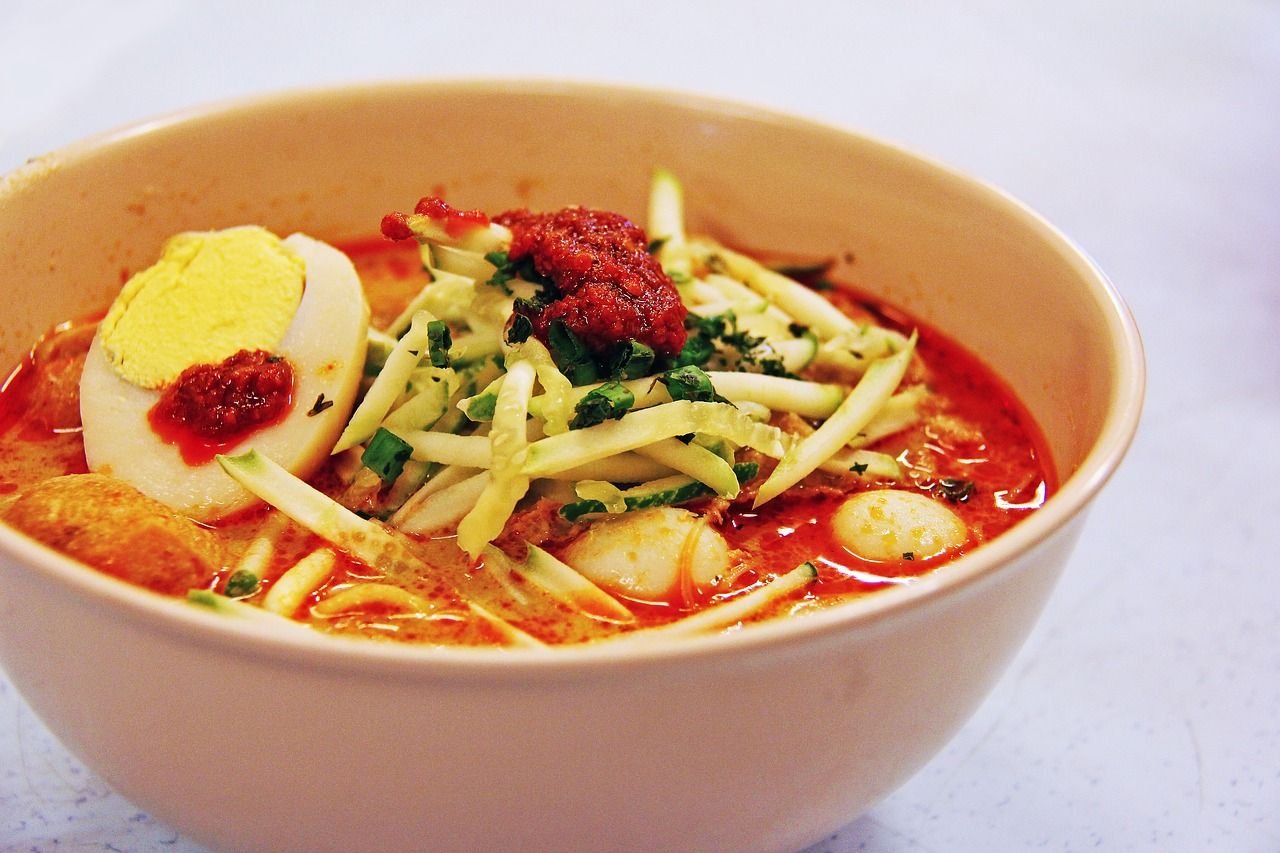 One of the most popular noodle dishes, Laksa is a must-try food when in Singapore. The rich and spicy soup base is topped with a variety of ingredients like beancurd puffs, cockles, prawns and fishcakes. It is one of the best things to eat during dreary rainy days. Do keep in mind that there are many different types of laksa. In fact, it is a never-ending debate between the different regions which Laksa is the best. The main differentiating factor is found in the soup. Penang Laksa features a tamarind sourness whereas Sarawak type Laksa is more curry-like. Inspired by the Peranakans, the Singaporean version is flavoured with coconut and dried shrimp which can give it a slightly sandy texture. Try them all to see which is your favourite.
4. Hainanese Chicken Rice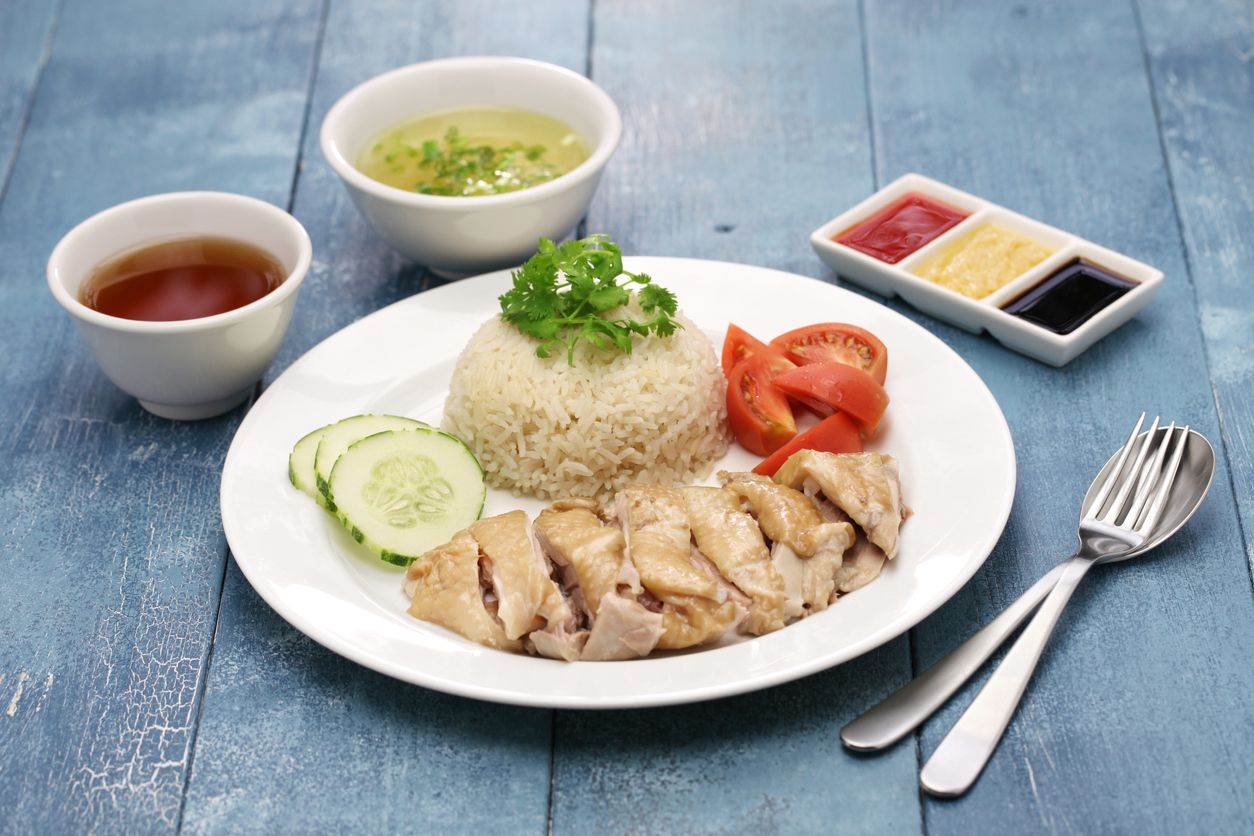 Perhaps the most famous Singaporean dish is the humble Hainanese Chicken Rice. It is probably considered the national dish of Singapore, if they had one. The chicken is first poached and then dipped in ice to lock all its moisture and produce a jelly-like finish on the skin. The stock from cooking the chicken is combined with ginger, garlic, and pandan leaves to create the signature oily rice. Take a bite of the succulent chicken with a mouthful of flavourful rice and a little bit of freshly minced red chilli and garlic. You will soon understand why this famous Singaporean dish is considered one of the "World's 50 Best Foods" by CNN.
5. Char Kway Teow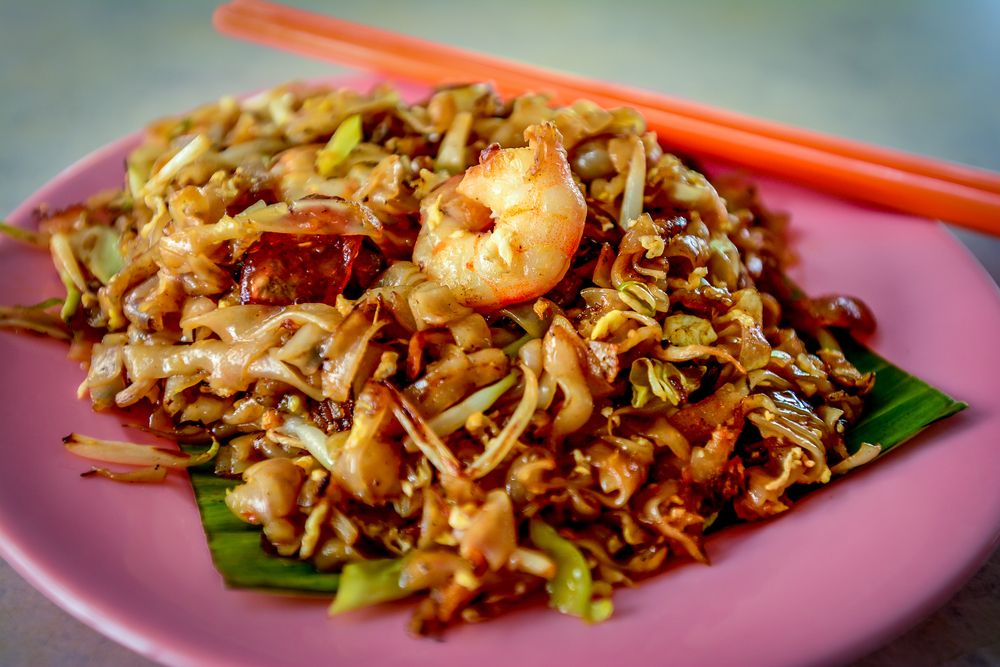 Another popular hawker dish is Char Kway Teow, which literally translates to stir-fried flat noodles. To make this dish, the flat noodles are stir-fried over a wok with a combination of light and dark soy sauce, garlic, chilli, preserved Chinese sausage, egg, fishcakes, beansprouts, and lard. Though it might not look the prettiest, it certainly packs a punch. Cooking it in a wok is essential. The 'wok hei' provides a smokey depth and charcoal flavour that is characteristic of this dish. To enhance the scent, this Singaporean dish is normally served on top of a banana leaf with a wedge of lime squeezed over as the finishing touch. Fun fact, this dish used to be called a 'poor man's dish' and was popular among labourers, farmers, and fishermen due to its affordable ingredients.
6. Chilli Crab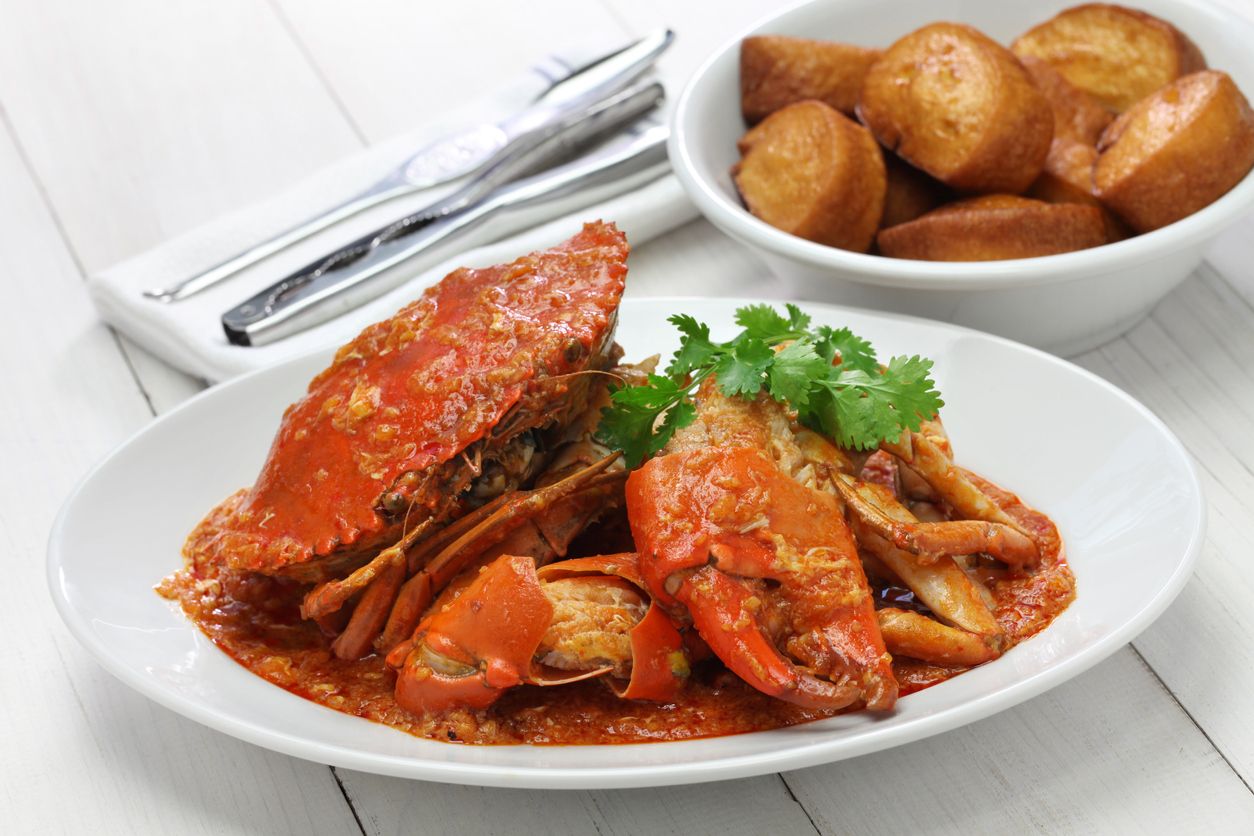 Chilli crab has become synonymous with Singaporean cuisine. It is a definite must-try food when in Singapore. First created in the mid-1950s by a street food hawker when she added bottled chilli sauce to her stir-fried crab, this iconic Singaporean dish has developed and found its way to almost every seafood restaurant in Singapore. Don't be afraid to get messy. To maximise enjoyment, most people use their bare hands to break apart and savour the juicy crab meat before grabbing the fried or steamed mantou buns to soak up its semi-thick, sweet and savoury tomato and chilli-based sauce.
7. Hokkien Prawn Mee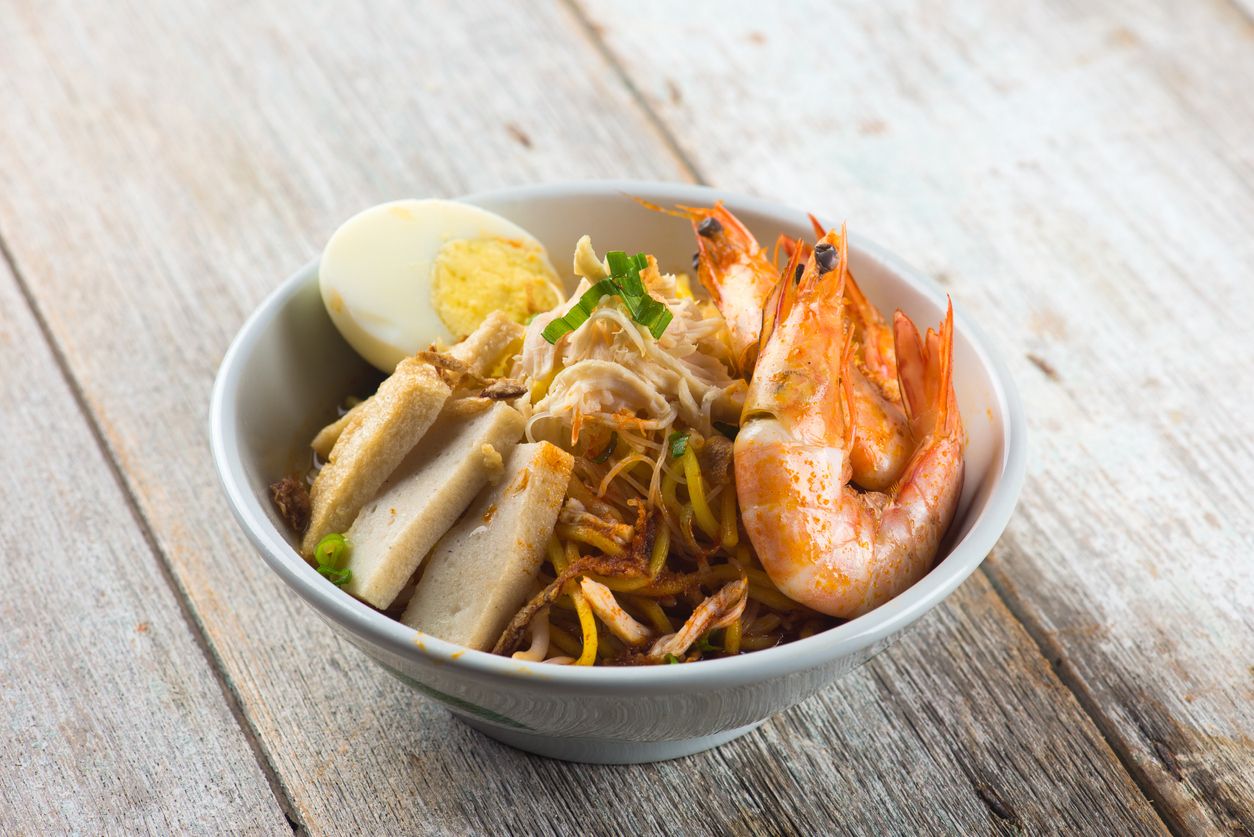 Prawn or seafood lovers are sure to crave and salivate at the decadent Hokkien Prawn Mee. Another type of specialty soup noodles from this region, this Singaporean dish showcases a thick, creamy, and aromatic broth made from a large amount of prawn heads, shells, and pork bones. A mix of vermicelli and yellow wheat noodles are then topped with beansprouts, water spinach, eggs, prawns, pork belly strips, squid, and deliciously sinful fried pork lard. Served with a dollop of sambal and lime, it is a punchy and texture filled bowl of yummy goodness. There is actually a dry type of Hokkien Prawn Mee that is equally flavourful.
8. Barbecued Stingray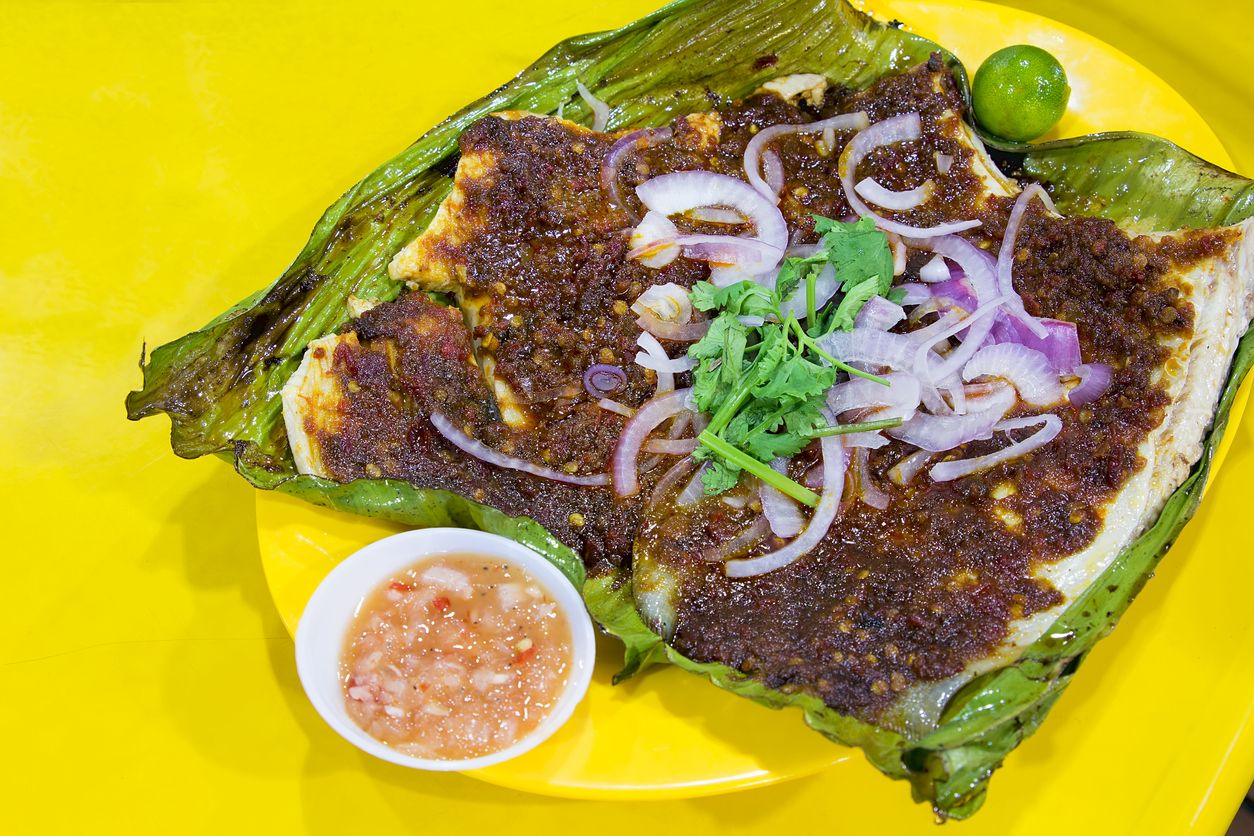 Another sure hit for seafood lovers, the Barbecued Stingray is a classic. The fleshy fish meat is slathered with sambal, wrapped in banana leaves to seal in the moistures, and then grilled to perfection. The crispy skin is then treated with a squeeze of calamansi or lime to balance the earthy and smokey flavour. The bones are big so simply use your fork, knife, or spoon to scrape off the tender stingray meat. The beautiful depth of flavour in this simple dish is one you cannot miss. The best part about this Singaporean dish is that it is one of the cheapest and most affordable seafood dishes you will find in Singapore.
9. Bak Kut Teh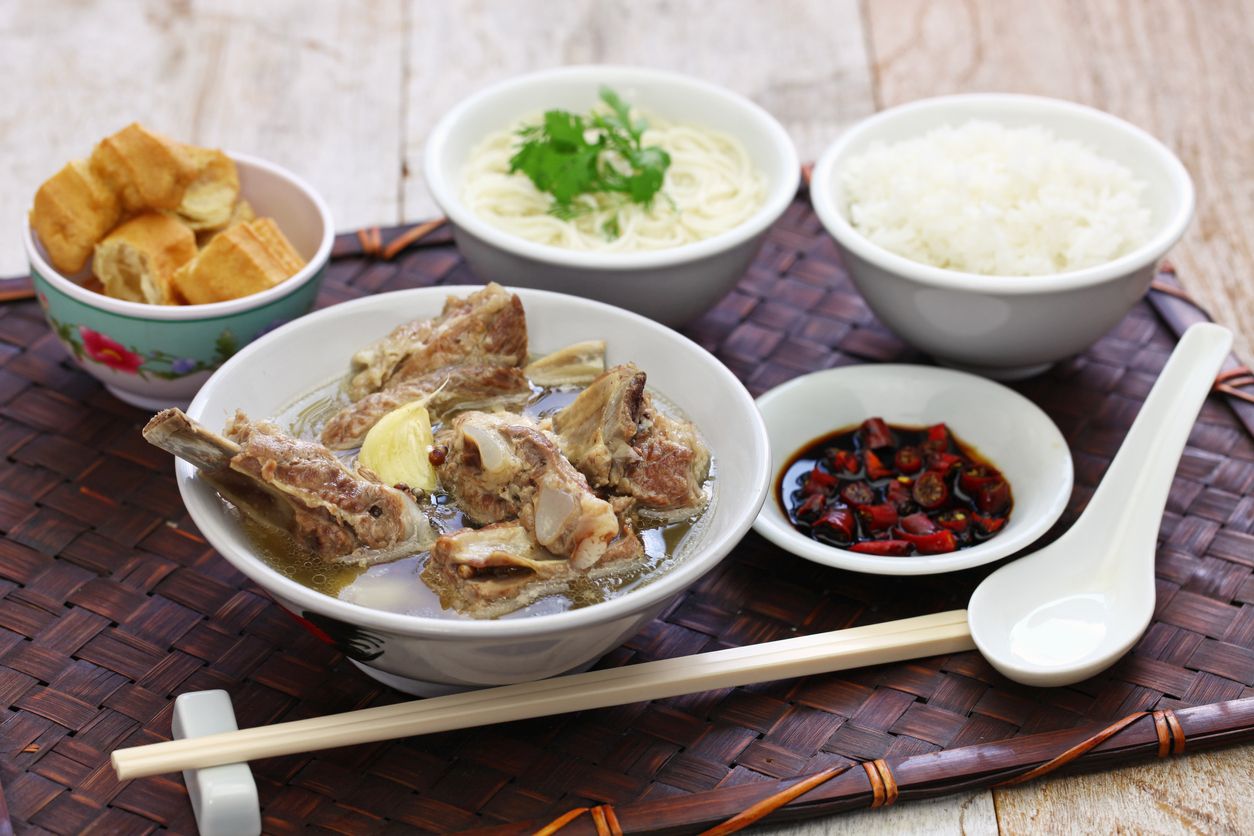 Directly translating to pork bone tea, this rich and warming dish is especially comforting in rainy weather. With its nourishing and warming properties, you can eat it for breakfast, lunch, and dinner. Just like how there are different types of Laksa, there are also different types of Bak Kut Teh. In Malaysia, the broth is much more herbal whereas in Singapore, which follows the Teochew style, is more peppery. A steaming pot of Bak Kut Teh is usually accompanied by some Chinese fried dough to soak up the flavour and tea to cut through the heaviness of the meat. To enjoy like a local, sip the soup and dip the meat into a concoction of chilli and dark soy sauce.
10. Ais Kacang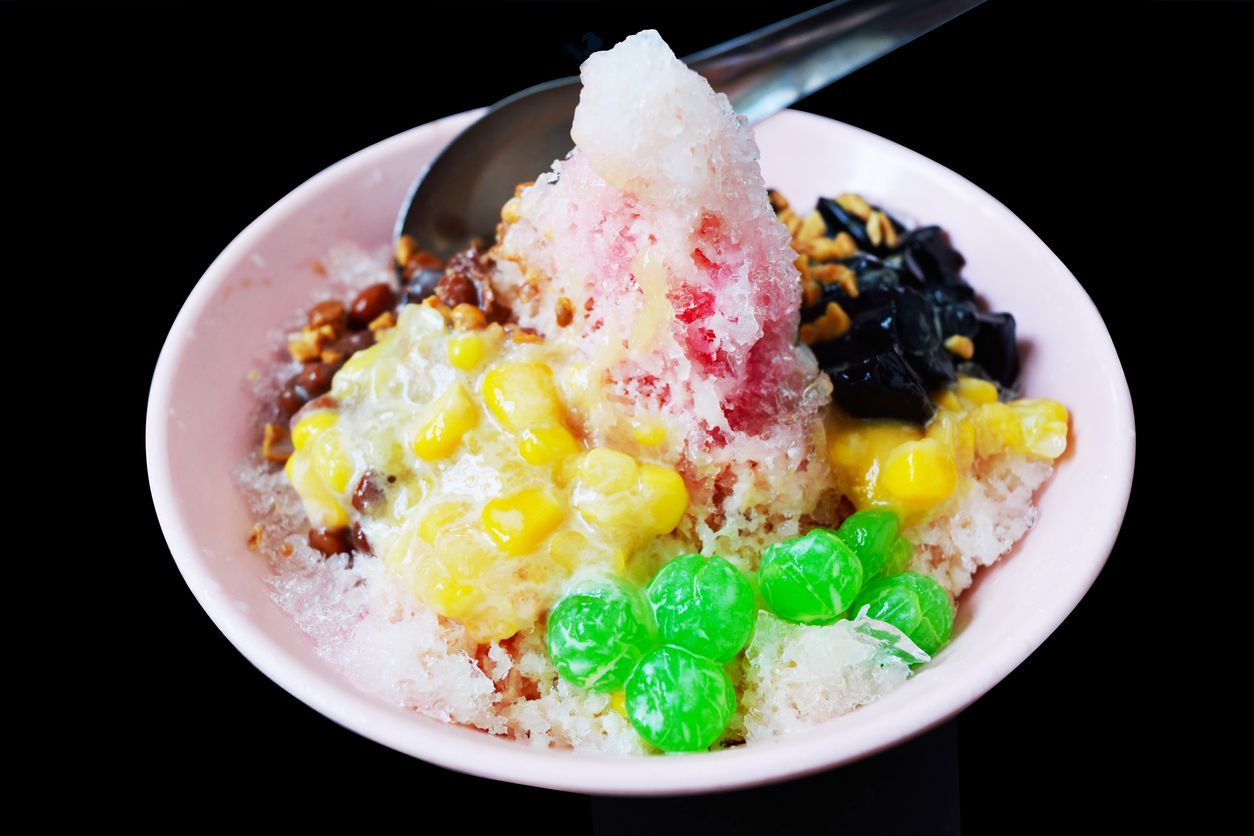 Last but not least is the thirst-quenching Ais Kacang. This sweet icy treat is perfect for the summer heat as you explore the city. It is both hydrating and cooling. To make this Singaporean dish, blocks of ice are first shaved into a bowl before adding sweet beans, jelly and a sweet syrup called gula melaka. You can also add additional toppings, such as sweet corn, peanuts, evaporated or condensed milk, mango, durian, ice cream, basil seeds, cendol, rose syrup, and so much more. Put everything that you want and customise this bowl of goodness to cater your tastebuds.
---
There are so many must-try foods in Singapore. How will you eat everything? Lucky for you, most of these Singaporean dishes can be found in hawker centres all over Singapore. Stay in Lanson Place Winsland, Singapore so that you have easy access to everything tasty. Its central location near the world-famous Orchard Road makes it a convenient stay and a perfect getaway for those in Singapore. Explore the city with elevated home comforts. Choose Lanson Place.