Urban Oasis: 5 Best Hiking Trails on Hong Kong Island
Hong Kong is world-renowned for its urban density and tower-studded cityscape. But not many might notice that beyond the vibrant metropolis, there are also a lot of accessible hiking trails for people to enjoy the city's breathtaking natural scenery. Just a few steps away from Lanson Place, let us take you through the best 5 hiking trails on Hong Kong Island!
---
1. Dragon's Back
Length: 8.5 kilometres
Estimated Duration: 4 hours
Level of Difficulty: ★★☆☆☆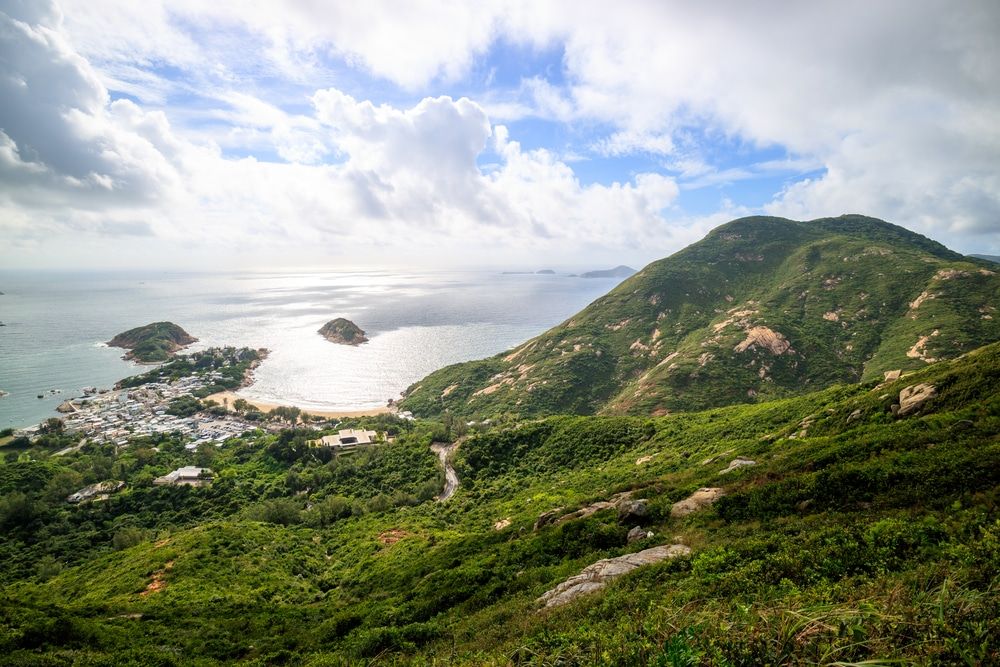 Located in the Southern district of Shek O, Dragon's Back got its attractive nickname from a metaphor, which accurately depicts the billowy mountain ridge above the sea horizon, like an oriental sleeping dragon. This meandering path is one of Hong Kong's most popular urban hiking trails and was also selected by CNN in 2019 as one of the world's 23 best trails, highly recommended for beginners. Dragon's Back is the eighth and last part of the 50-kilometre Hong Kong Trail, which passes through five different country parks, eventually ending at the surfer's paradise of Big Wave Way.
Just after a 20-minute walk from the starting point, you will find yourself on the Shek O Peninsula Viewing Point overlooking Shek O Beach on the foot of the hill, as well as the two isles off Shek O Peninsula. This sightseeing platform provides a spectacular view of southern Hong Kong Island and its shoreline. Without a doubt, it is the perfect place for a speedy and mind-blowing escape from the concrete jungle.
Direction: Take bus number 9 to Shek O at the Shau Kei Wan Bus Terminus and get off at the stop of "To Tei Wan, Dragon's Back".
---
2. Victoria Peak Circle Walk (From Lugard Road)
Length: 4 kilometres
Estimated Duration: 1.5 hours
Level of Difficulty: ★☆☆☆☆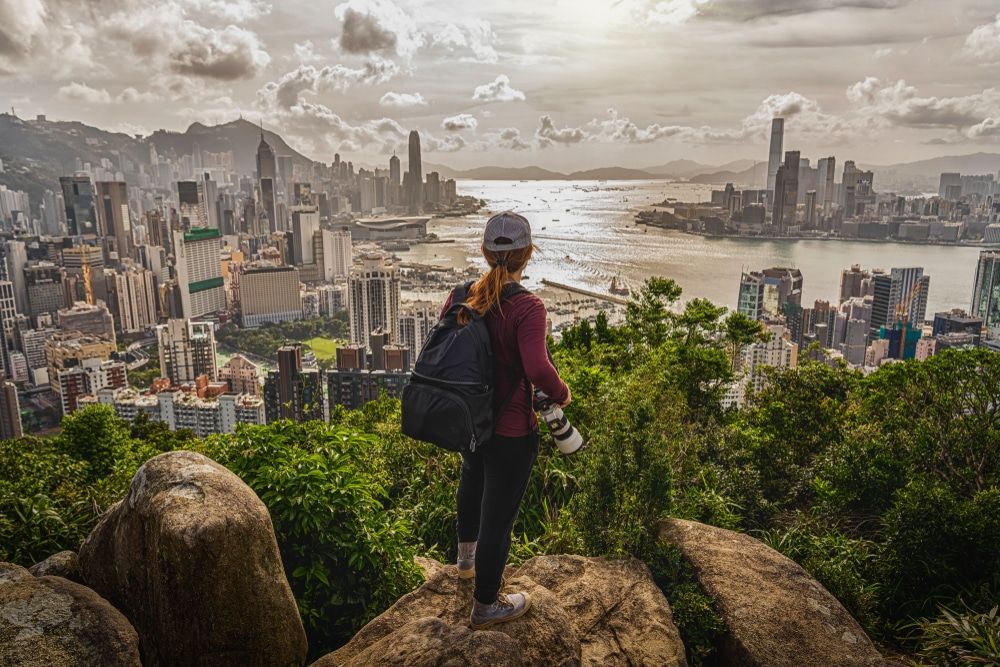 If you are looking for an easy and accessible hiking trail in Hong Kong for all levels of hikers, like elderlies, children or even dogs, the Victoria Peak Circle Walk is the one to go! Winding around the highest point on Hong Kong Island, this 90-minute path provides you with the most magnificent top-down view of the city's vibrant landscape from Victoria Peak. It is also one of the best hikes in Hong Kong to take in the famed Victoria Harbour. You are highly recommended to visit before sunset, as you will be able to see the scenic view of Hong Kong Island in the glow of afternoon light.
The Walk begins at Lugard Road near the Peak Tower. Built in 1913-14, the road is named after Hong Kong's 14th governor, Sir Fredrick Lugard. It takes you around 20 minutes to reach the Lugard Road lookout, which offers a spectacular panoramic view of the world-famous Victoria Harbour. After running into Harlech Road, the path will slowly take you back to the Peak Tower and to the end of your lap around the Peak.
Direction: Take either the Peak Tram from the terminus on Garden Road, bus 15 from Exchange Square bus terminus or minibus 1 from Hong Kong MTR station up to the Peak.
---
3. Braemar Hill (Red Incense Burner Summit)
Length: 1 kilometre
Estimated Duration: 30 minutes
Level of Difficulty: ★★☆☆☆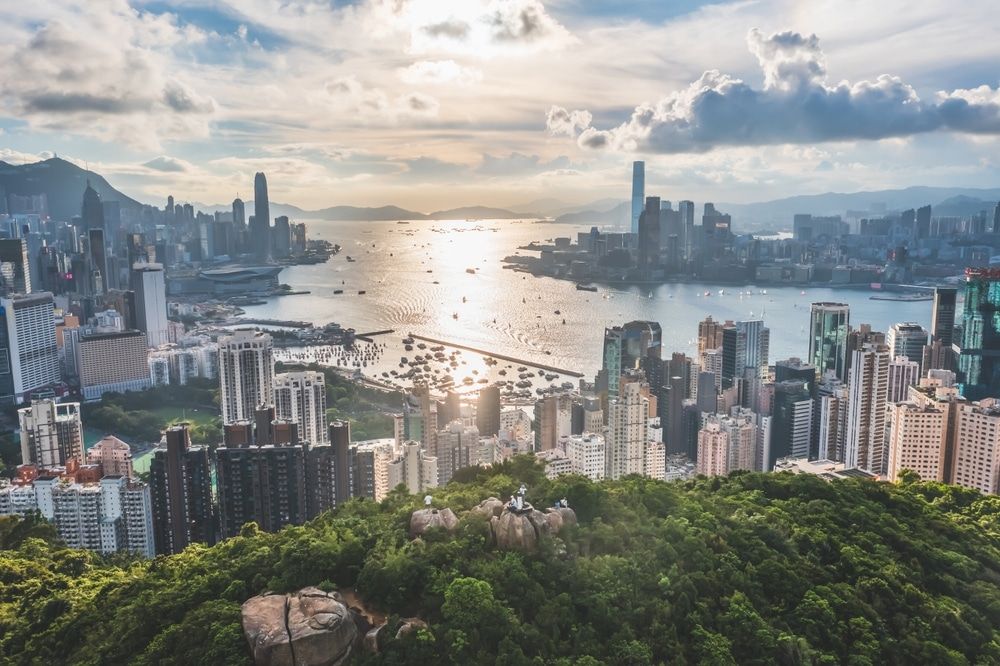 If you Google the "best peak in Hong Kong to watch the sunset", the Red Incense Burner Summit always pops up as one of the top results. Located behind Fortress Hill and Tin Hau, just a 20-minute bus ride from Causeway Bay, the Red Incense Burner Summit at Braemar Hill offers a short and relatively easy path for sunset lovers to enjoy the golden and majestic moment of the day. Unlike Victoria Peak's viewpoint, you will have to climb atop a few huge rocks before reaching the summit, so make sure you dress in proper clothes and wear a pair of light hiking shoes.
For folks who are interested, don't forget to check the sunset time before heading up to the summit. If you want to grab a good spot, try to hike up to the summit at least 30 minutes before sunset, before it's filled with longing visitors and photographers. It's also important to bring a headlamp or torch to assist you in getting down the hill, as the view gets dark very soon after sunset.
Direction: Take minibus 49M at Tin Hau MTR station or minibus 25 at Causeway Bay MTR station and hop off at Braemar Hill Bus Terminus.
---
4. Che Pau Teng (Rhino Rock)
Length: 1.5 kilometres
Estimated Duration: 1 hour
Level of Difficulty: ★★★☆☆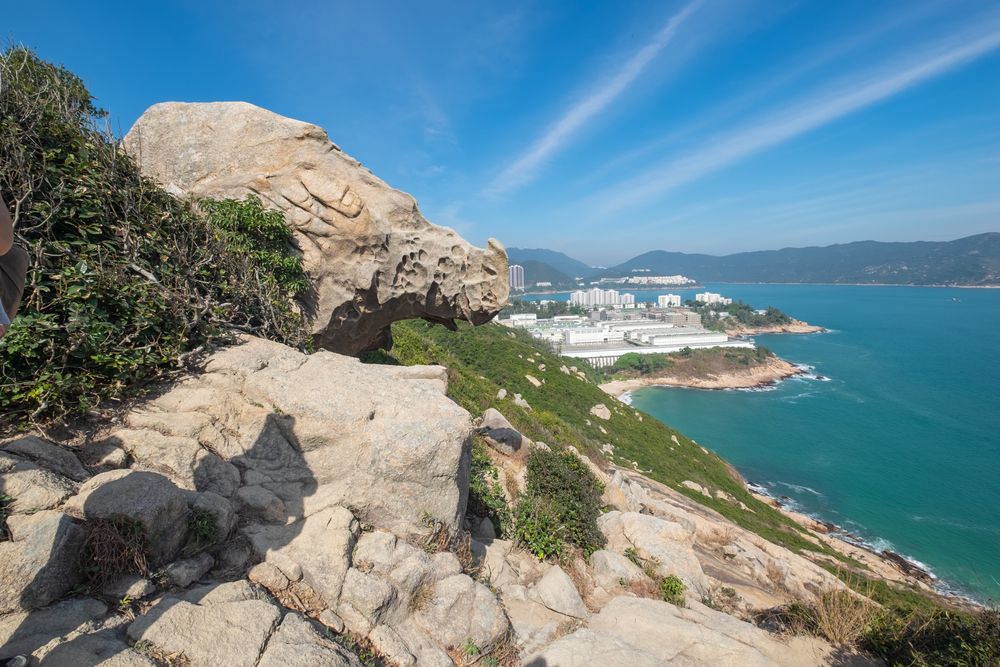 Are you interested in visiting one of Hong Kong's most "Instagram-famous" spots? Located on the southern tip of Stanley, the Rhino Rock is one of many unique-shaped eroded rocks on the hill of Che Pau Teng, which got its nickname due to its bizarre outlook like a rhinoceros.
After getting off at Stanley Fort, you can follow the steps next to the military gate and walk up the trail to Che Pau Teng. Although the unmarked trail can be a bit difficult to navigate with a fair amount of bushwhacking, past hikers have marked the trail with colourful ribbons so that it's now easy to follow. Once you reach the top, enter the bushes to the right of the marker and descend through the path of massive rocks. Then you will see the famous photo-taking spot of Rhino Rock. The descending route could be slippery, so make sure you are wearing proper hiking shoes.
Direction: Take bus 14 from Sai Wan Ho MTR station or bus 6A from Central Exchange Square and get off at Stanley Fort bus stop.
---
5. Pok Fu Lam Reservoir
Length: 3.5 kilometres
Estimated Duration: 1 hour
Level of Difficulty: ★☆☆☆☆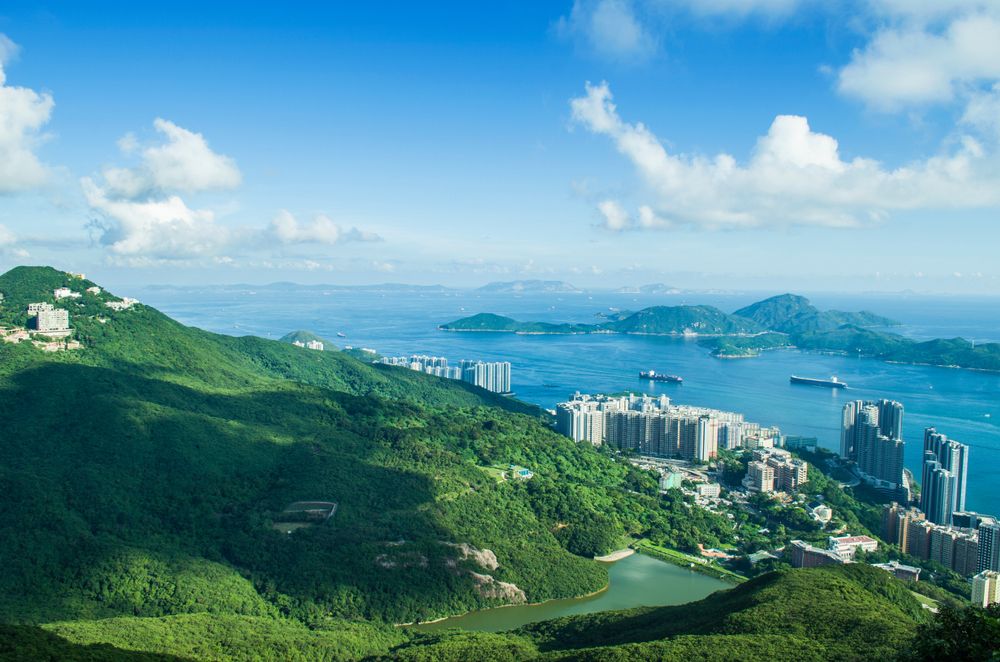 The well-constructed reservoirs in Hong Kong provide a number of easy and accessible hiking trails for all levels of hikers. Pok Fu Lam Reservoir is just one of the most popular routes among both locals and visitors, and is one of the best hikes in Hong Kong for families. Completed in 1863, Pok Fu Lam Reservoir is Hong Kong's oldest water storage facility. The 3.5-kilometre tranquil walk across Pok Fu Lam Country Park and Lung Fu Shan Country Park allows you to enjoy the picturesque natural scenery of western Hong Kong Island set in the foothills of Victoria Peak.
Another highlight of the trail would be a short 500-metre detour to Belcher's Falls, which during the monsoon gushes with power. No matter the multilayer Belcher's Falls, its cascades or its tiny pools, they all set out a perfect spot for you to capture spectacular photos for your social media.
Direction: Take bus number 7 or 15 in Central and get off at the Pok Fu Lam Reservoir Road stop.
---
Hiking in Hong Kong will show you the other side of the city – one that is slower and tranquil but equally breathtaking. Have you already been fascinated by all of the above hiking trails? Stay in the heart of Hong Kong Island at Lanson Place Causeway Bay, Two MacDonnell Road or the vibrant Island East at Lanson Place Waterfront Suites the next time you visit Hong Kong. Enjoy easy access to all the hidden gems of the city for an adventurous journey!*
Lanson Place Causeway Bay, Hong Kong is temporarily closed for a significant renovation and we look forward to welcoming you back in late 2023. Stay tuned!