Top 5 Shanghai Attractions: Yu Garden, French Concession & More
Shanghai is a treasure trove of things to see. Find historical landmarks that tell the stories of old Shanghai. Visit lesser-known urban developments that transport you back to an old English market town. Here are some of Lanson Lifetylists' top Shanghai attractions.
---
1. Yu Garden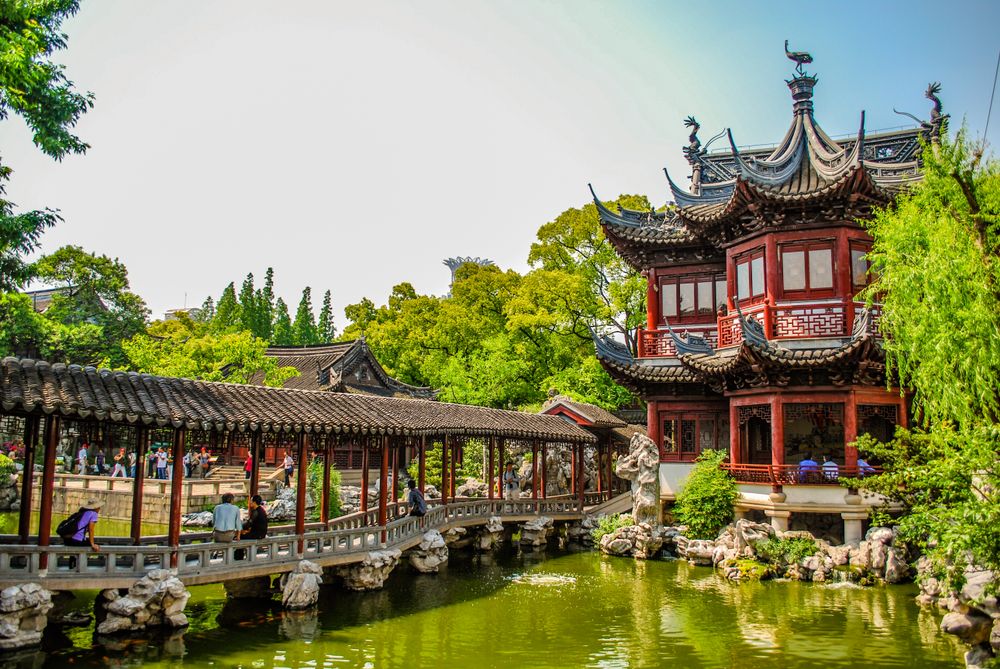 Yu Garden is a classical Chinese garden located in Huangpu District. First built in 1559, this historic Shanghai attraction was a private garden of a Ming dynasty government officer named Pan Yunduan. Like most Chinese gardens, Yu Garden is enclosed by walls and features a blend of architecture, natural landscapes, decorative rocks and water elements. Don't miss the Great Rockery, Exquisite Jade Rock, Wanhua Chamber, Sansui Hall and the Nine-Turn Bridge (walking across it is said to bring one good luck!). Outside the garden is Yuyuan Bazaar, where you will find hundreds of shops and stalls selling souvenirs, traditional decorations and snacks. There are also a number of restaurants, including Ningbo Dumplings where you can try both sweet and savoury glutinous rice balls, and teahouses like the Fenghui Tang-styled Teahouse where you can sample and buy different kinds of tea. As this is one of the busiest attractions in Shanghai, we recommend going on a weekday or in the morning to avoid crowds.
Address: No. 218 Anren Street, Huangpu Qu, Shanghai
Getting there: The garden is easily accessible from the Yuyuan Garden metro station.
---
2. Shanghai French Concession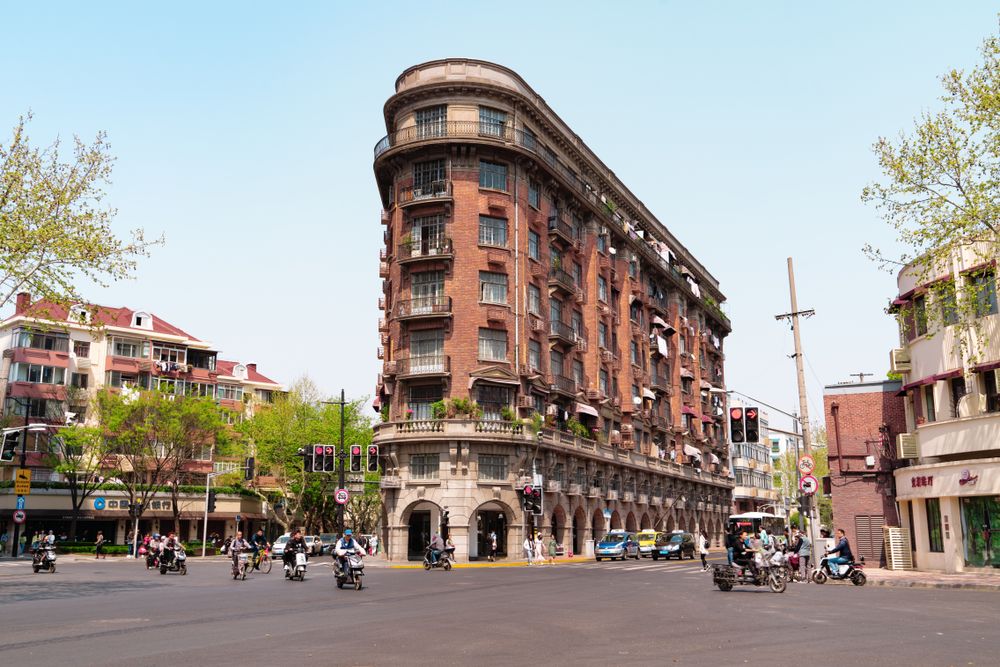 No visit to Shanghai is complete without checking out the picturesque Shanghai French Concession area. Here you can take a break from the fast-paced city lifestyle and towering skyscrapers that define Shanghai's skyline. Stroll along the sycamore tree-lined boulevards and admire many of its well-reserved buildings and residences that date back to the 1800s like the Wukang Mansion, the oldest veranda-style apartment building in Shanghai. As well as being a premier residential area, the Shanghai French Concession is also home to live-music venues, concept bars, hip restaurants, outdoor cafes, charming boutiques and a number of historic sites and museums.
Address: Huangpu District and Xuhui District, Shanghai
Getting there: Take metro Line 10 to Xintiandi station, Line 13 to Huaihai Middle Road station, or Line 1, 9 or 11 to Xujiahui station to start exploring.
---
3. Thames Town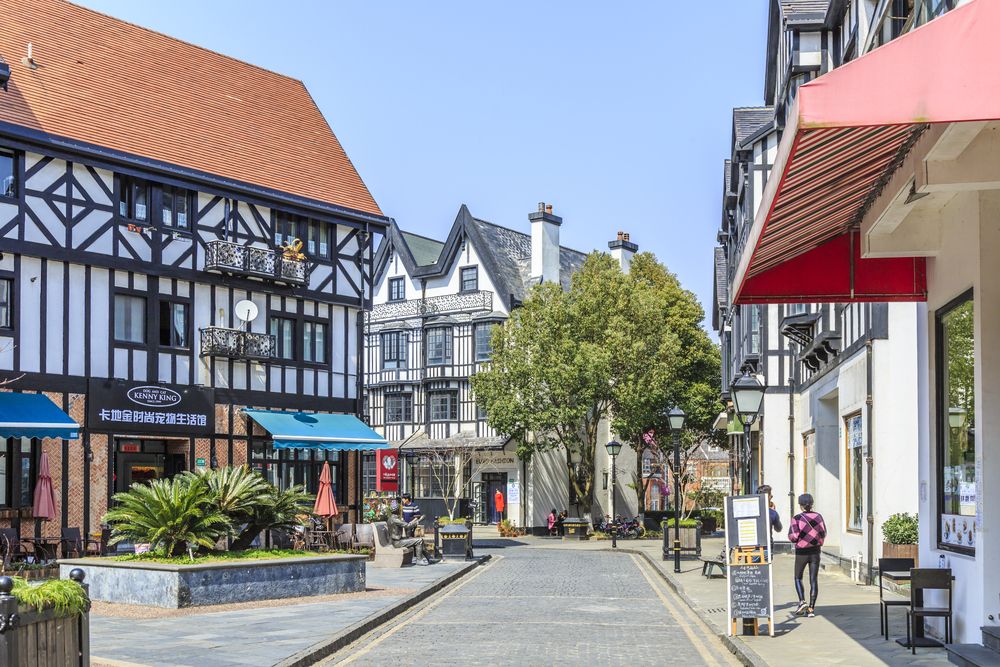 Located in Songjiang New City is Thames Town, an English market town-style community named after the famed River Thames in London. Here you can walk along cobbled streets and find red telephone boxes, statues of famous figures like Winston Churchill, and Victorian lamp posts dotted across the town. Solely filled with Elizabethan architecture, the landmark of the town is a church modelled off the Christ Church in Bristol, which is also a popular wedding photography background for locals.
Address: No.900 Sanxinbei Road, Songjiang District, Shanghai
Getting there: Take metro Line 9 to Songjiang Xincheng station, then take bus 16 to YuShu Bei Lu. From there, it is a 10-minute walk to Thames Town.
---
4. Nanjing Road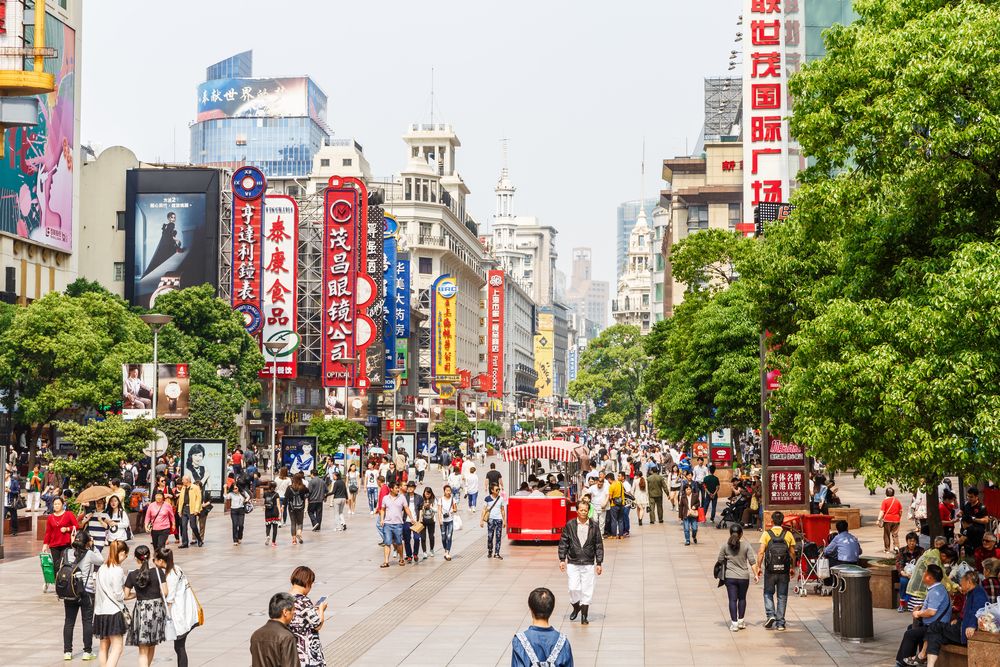 Nanjing Road is a prime commercial area in the heart of Shanghai. The largely pedestrianised East Nanjing Road stretches from the Bund to People's Park and is perhaps the busiest and most popular shopping district of the city. Shop in historic department stores like Shanghai No.1 Department Store, which was first opened in 1934. Browse through time-honoured brands like Zhang Xiao Quan that specialises in kitchen tools and scissors. Taste traditional local snacks from century-old food stores like Shen Da Cheng and Zhen Lao Da Fang. As night falls, take the Dangdang sightseeing tram that runs between Middle Xizang Road to Middle Henan Road. Admire the unique sights and architecture along both sides of the road as the entire street lights up. Compared to the eastern part of Nanjing Road, West Nanjing Road is a more high-end commercial area. It begins near People's Park, where East Nanjing Road ends and extends all the way to West Yan'an Road in Jing'an District. This area is home to modern shopping malls, luxury labels and five-star hotels.
Address: Nanjing Road, Shanghai
Getting there: Take Line 2 or 10 to East Nanjing Road metro station, or Lines 2, 12 or 13 to West Nanjing Road metro station.
---
5. Tianzifang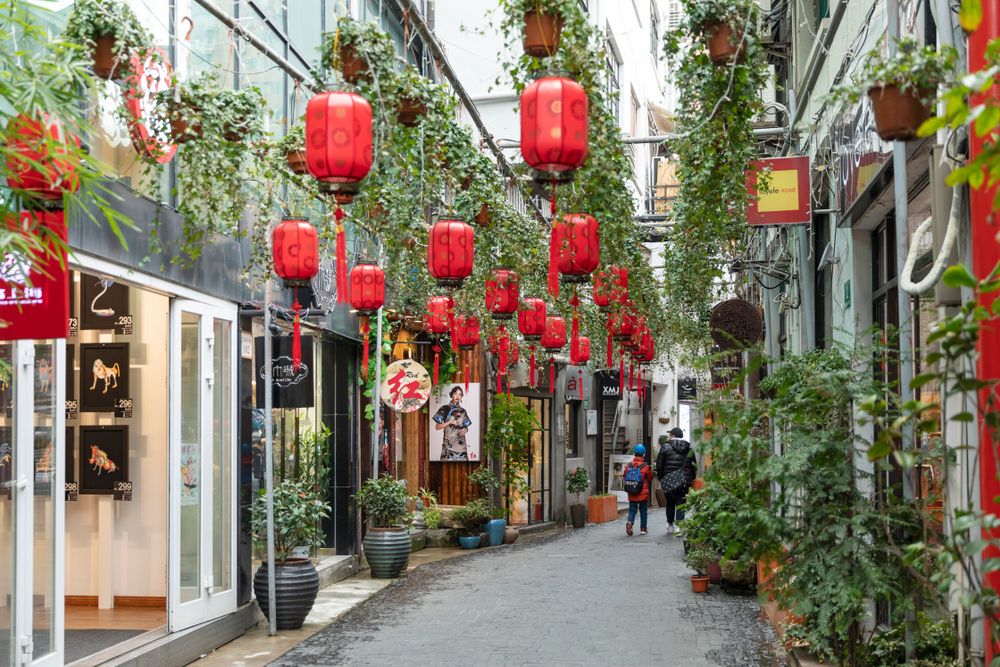 Tianzifang is an arts and crafts enclave located in a revamped traditional residential neighbourhood in the Shanghai French Concession area. This popular Shanghai attraction boasts some of the best-preserved Shikumen houses, an architectural style that is uniquely Shanghai. Wander through over 100 art galleries and design studios, craft shops, tea houses, coffee shops, bars, textile shops, antique shops, souvenir shops and boutiques. These lanes are ideal for souvenir shopping for those looking for a keepsake of their trip in Shanghai. Shops in Tianzifang are typically open between 10 am and 11 pm, while some bars open till late.
Address: Lane 210, Taikang Road, Luwan District, Shanghai
Getting there: Visit by taking metro Line 9 to Dapuqiao station and getting out from Exit 1, which is right opposite Tianzifang.
---
Visiting Shanghai?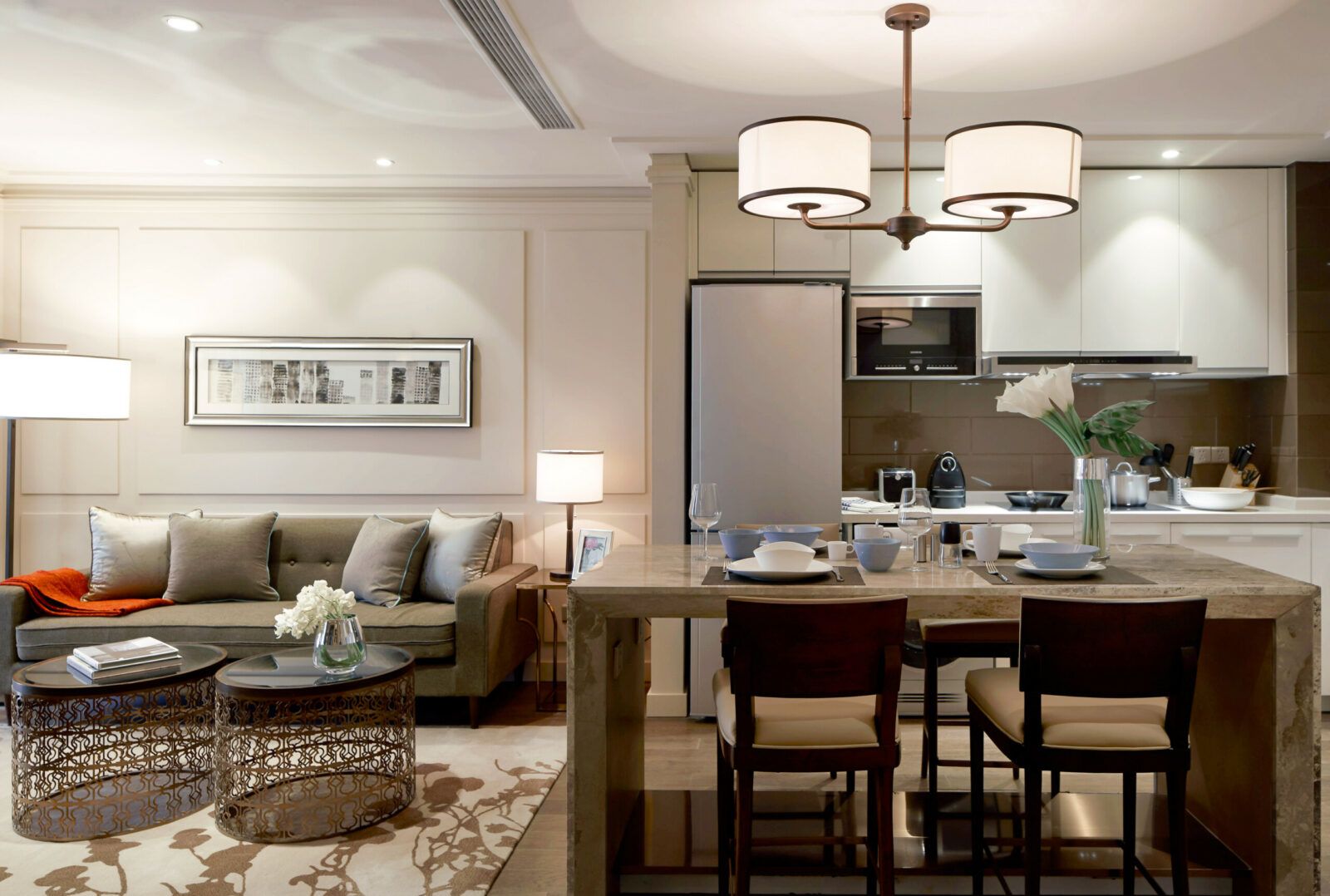 Stay close to all the attractions by staying with Lanson Place in Shanghai. Our spaces are thoughtfully designed to meet the needs of every traveller, whether you are visiting Shanghai for business or leisure, short-term or long-term.
---
Centrally located in the Shanghai French Concession of Huangpu District, this 182-door serviced residence offers contemporary one- and two-bedroom apartments, ranging from 73 to 148 square meters. Easily get around the city to major business hubs and attractions in Shanghai with the Madang Road metro station right next to the property.
Located in Puxi District, Lanson Place Aroma Garden is just a stone's throw away from major Shanghai attractions like The Bund and Yu Garden. There are 79 spacious one- to three-bedroom suites ranging from 97 to 470 square meters. Each suite is decorated in soft hues and earthy tones, fitted with home-like conveniences so guests can feel right at home. The property also features an outdoor barbecue and bar area where guests can truly unwind, relax and form new connections.
Lanson Place One Sunland, situated in the heart of Shanghai's booming Waigaoqiao area, is a perfect choice for business travellers and families visiting Shanghai. It enjoys close proximity to Waigaoqiao's newly-established Free Trade Zone and nearby expat communities with international schools and an array of malls and restaurants. The property consists of 188 spacious units, from studios to 3-bedroom suites, family facilities like a pool table and video game centre, a fully-equipped exercise room with sauna and jacuzzi, as well as a multi-purpose meeting room.