Eat Like a Local: 10 Must-Try Shanghainese Dishes You Can't Miss

Among the wide variation of palatable fares among Chinese cuisines, those from Shanghai indisputably take the crown with the largest fanbase worldwide. As the most populated city in China with a population of more than 26 million, Shanghai is also the heart of the country when it comes to culinary delicacies. On top of the rich flavours and alluring aromas that can be perceived blocks away, Shanghai dishes often also exhibit remarkable skills and craftsmanship with the plethora of unique specialities you just cannot find elsewhere. From mouthwatering street foods to seriously fancy culinary options, read on for a journey discovering the charms of Shanghai through Shanghai foods.
---
1. Xiaolongbao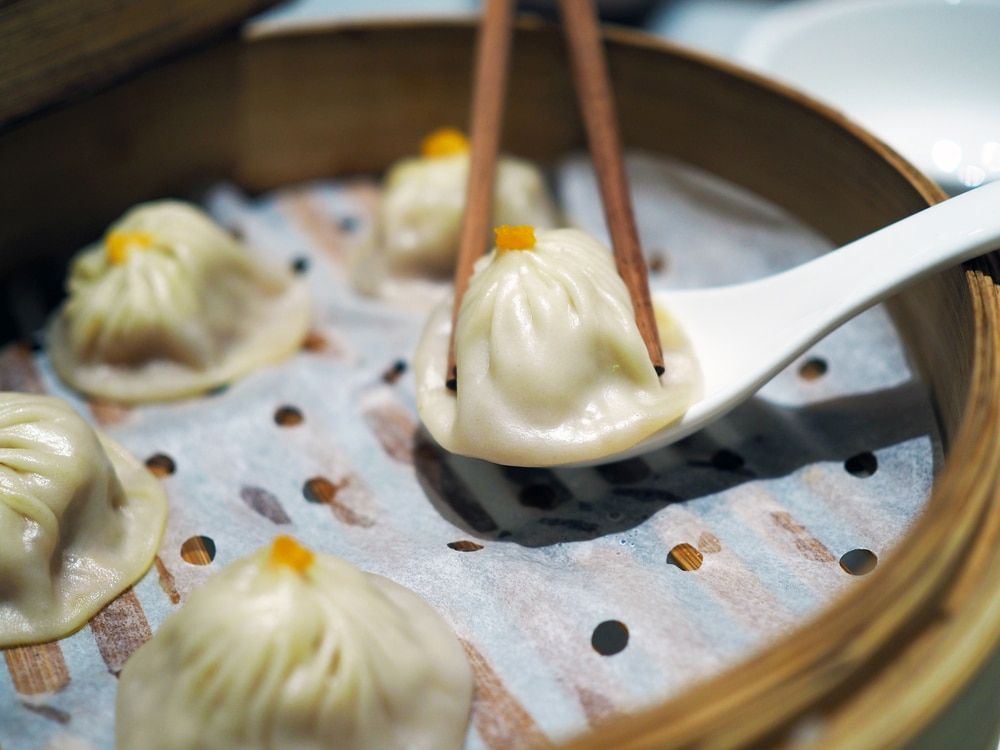 Xiaolongbao, or soup dumplings, literally translates to small basket buns, is probably one of the first items that come to mind when talking about Shanghainese dishes. A Shanghai classic and international craze, xiaolongbaos are delicate thin-skinned dumplings, with minced fillings of either pork, shrimp, crab meat, or vegetables and delicious hot broth cooked (and often served) in a small bamboo steamer. Crowned with a ring-shaped dough skin, these dainty delights are not just pleasing to the eyes. Each xiaolongbao is an explosion of flavours in the mouth that will have any food connoisseur asking for more. Soup bursting and washing over your palate along with its richly flavoured fillings inside when bitten into, xiaolongbao is surely among the top food experiences our world has to offer. For those who always wonder how the broth is added into the sealed dumplings, we have the answer here. A jellied pork stock is wrapped inside each dumpling along with its fillings, which melts when steamed and transforms into a rich, sticky soup that fills the entire dumpling with soup.
Where you can try them: Jia Jia Tang Bao
Address: 90 Huanghe Road, Huangpu, Shanghai
---
2. Shanghai Smoked Fish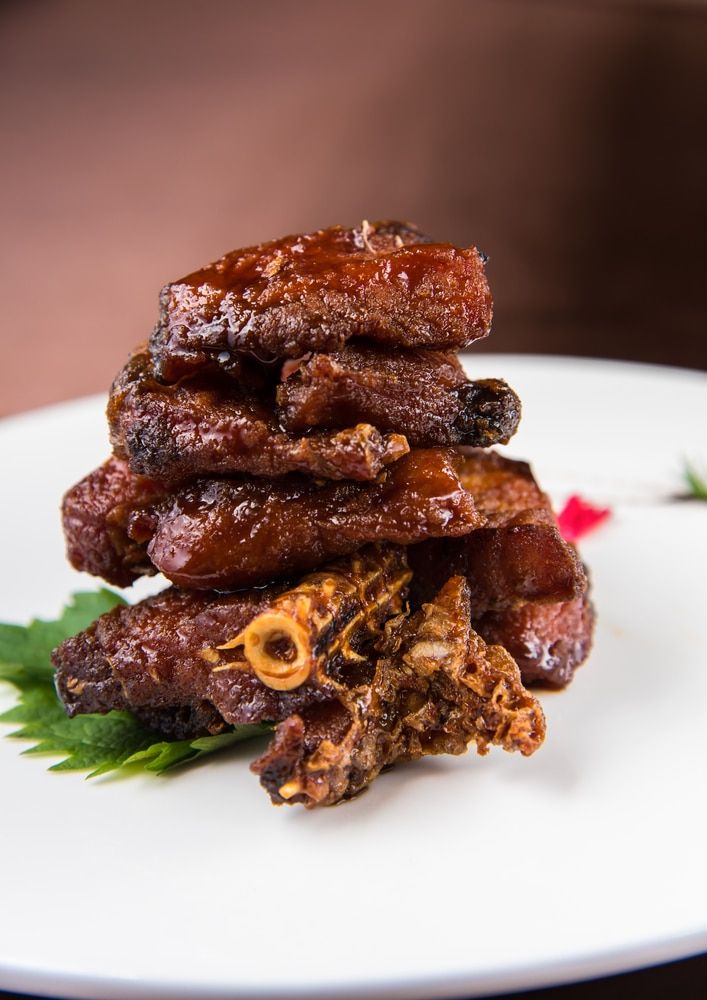 A traditional Shanghai dish that is served cold, the Shanghai smoked fish is not actually smoked literally. The "smoking" process takes place in the thick, sweet and savoury brown sauce. This cold appetiser, widely popular among locals and visitors alike, is fresh fish (usually a carp) marinated and spiced to taste like smoked fish. Delicately fried, bathed in a thick brown sauce, and sprinkled with toasted sesame seeds for additional tastiness, Shanghai smoked fish slices are a cult favourite among foodies who prefer generously spiced food. Its crispy outer skin and flavourful meat inside are both evenly seasoned and cooked, making this delectable Shanghai dish a reigning classic.
Recommended restaurant: Fu 1039
Address:1039 Yuyuan Road, Changning, Shanghai
---
3. Pan-Fried Pork Buns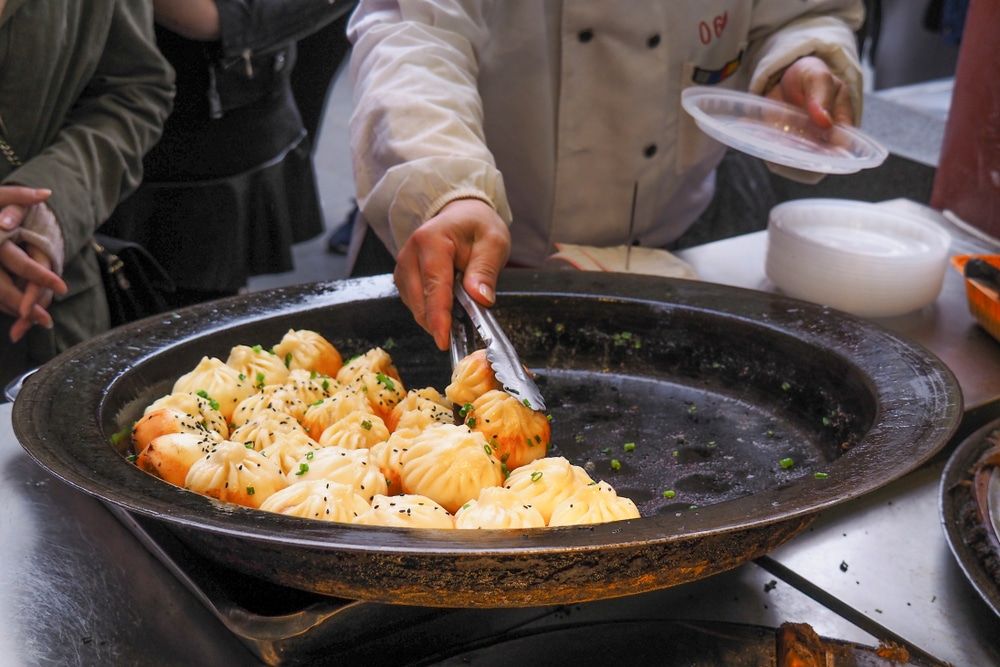 Another chart-topper among all Shanghai foods, pan-fried pork buns, or sheng jian baos (literally raw-fried buns), do share some similarities with xiaolongbaos, as they are both filled with savoury minced pork and a big slurp of piping hot broth. Equally delicious, this top Shanghai snack, however, offers a very different culinary experience. Shallow-fried on a pan, crackling-crisp at the bottom yet pillow-soft on top, these pan-fried buns are much bigger, thicker, and breadier. The making of this spongy goodness is also quite a show – the buns are closely packed into a large griddle ladled with oil and shallow-fried until the bottoms are golden and crispy. The bun-packed pan is then doused with a little bit of water, and chefs will then immediately seal the entire pan with a heavy wooden lid until the tops of the buns are steam-cooked. Finish by sprinkling some pre-fried sesame and scallions on top, pan-fried pork buns are best when eaten hot and fresh out of the pan. These divinely spongy and juicy buns are the go-to comfort food for many Shanghai locals.
Where you can try them: Xiao Yang Shen Jian
Address: 1601 Nanjing Xi Road, Jingan, Shanghai
---
4. Scallion Pancake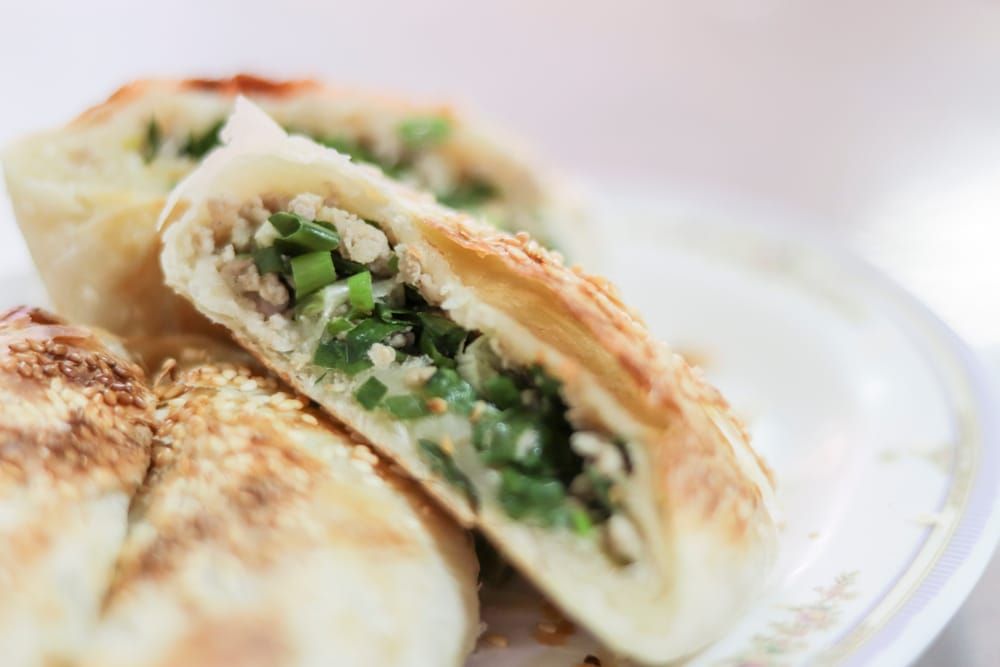 Locally referred to as cong you bing (literally greased scallion pancakes), these little rounds are made from dough and are savoury instead of batter-formed and sweet like their western twin. While savoury pancakes and their variations are a staple food in many regions in China, what makes the Shanghainese scallion pancakes stand out among its competition is the texture. Torn open when hot, the divine fragrance escapes between the many layers of these flaky and crispy pancakes alongside with the steam, thanks to its crispy outer shell perfectly trapping both heat and aroma within the softer layers inside. The scallion pancakes from Shanghai are also considerably thicker than the many other versions you may find elsewhere. With the beautiful layers and perfectly harmonious contrast in texture, it is not hard to see why the Shanghai scallion pancakes dominate other Chinese pancakes.
Where you can try them: Ah Niang Cong You Bing
Address: Lane 578 Xiangyang Nan Road, Xuhui, Shanghai
---
5. Braised Wheat Gluten with Mushrooms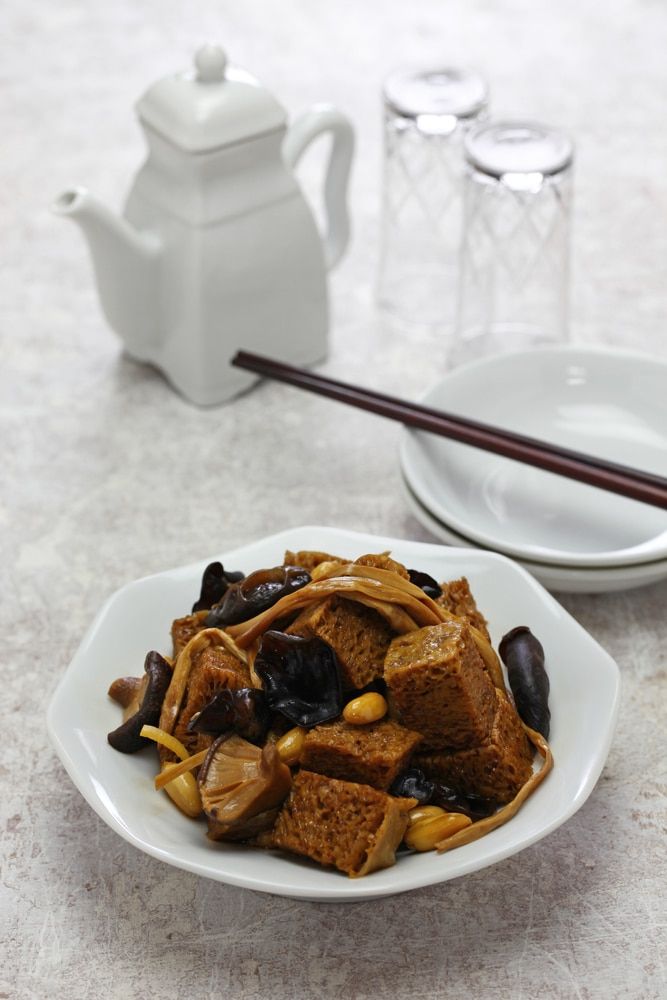 Typically served as a cold appetiser, Si Xi Kao Fu, or braised wheat gluten with mushrooms, is a traditional Shanghai dish that many Shanghainese natives grow up eating and love. Kao fu, which is the Chinese name for wheat gluten, is deliciously spongy when soaked and tastes rather similar to tofu. Adding sliced bamboo shoots, assorted fungus, and of course, soaked wheat gluten together into a heated wok, the ingredients are then simmered, stir-fried, and seasoned with light soy sauce, rice wine, sugar and sesame oil. Those who follow a vegetarian will for sure enjoy this staple Shanghai dish. Branded with an auspicious name "si xi", meaning quadruple fortunein the Shanghainese language, it is not hard to see why this traditional dish often makes an appearance on the Shanghainese dinner table during Chinese New Year's Eve.
Where you can try them: Ah Niang Cong You Bing
Address: Lane 578 Xiangyang Nan Road, Xuhui, Shanghai
---
6. Crab Shell Pie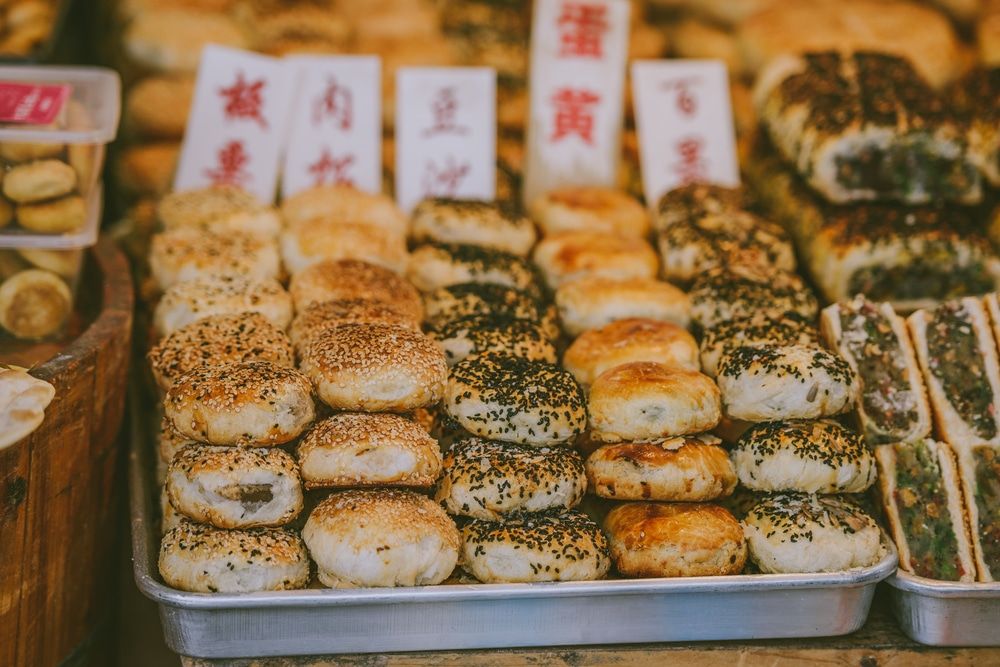 Crab shell pie, a crispy bun filled with savoury or sweet ingredients, is a traditional dessert in Shanghai and, you guessed it — it is not crab at all. The name of these puck-sized pies was inspired by its appearance, resembling a crispy golden crab shell. Depending on the fillings inside, crab shell pies can be sweet or salty. Sweet crab shell pies are usually filled with sweetened bean paste or jujube paste, while the salty kinds usually consist of minced pork with scallion. Once they are out of the oven, sesame is sprinkled on top of the golden pies as a finishing touch. Besides its inviting aromas and crispy shells, the layers inside are clearly separated, giving these fresh bakes even more of a substantial and palatable texture. Bonus points go to the fact that most crab shell pies can remain good for a week, making them the perfect souvenir or a good dessert when you are on the go.
Where you can try them: Wangjiasha
Address: 805 Nanjing Xi Road, Jingan, Shanghai
---
7. Yellow Croaker Noodle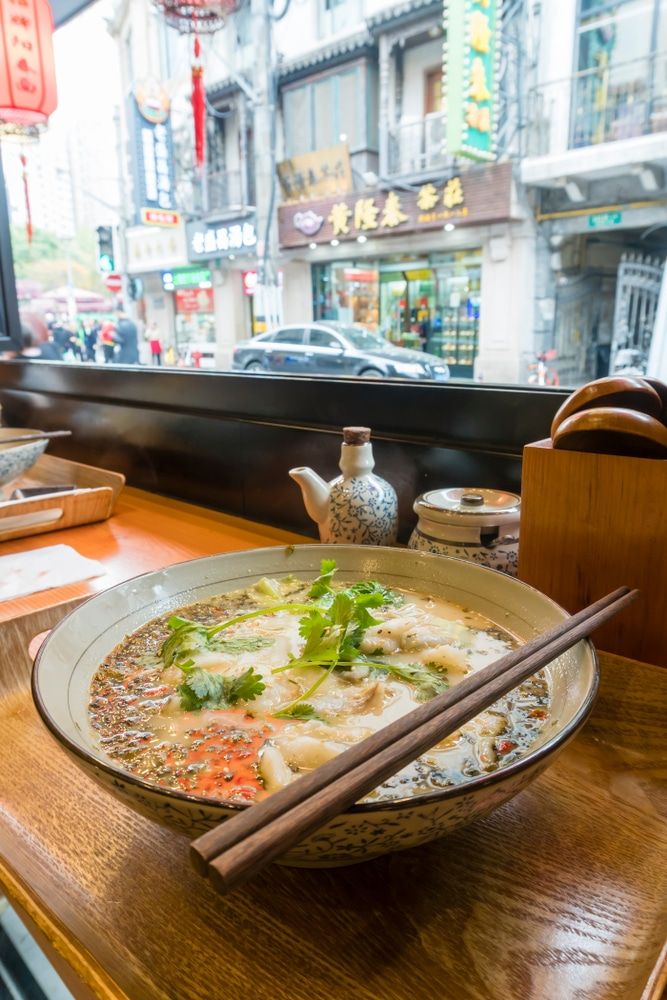 While noodle soup with dumplings gets plenty of well-deserved love, there are plenty of other noodle soups that do not get their due recognition. Among which is yellow croaker noodles, one of the many underrated Shanghai dishes – just ask any Shanghai locals and you will find that they all adore this bowl of creamy goodness. Croaker is a popular fish in Shanghai and its nearby regions, and with the yellow croaker fish's tender and juicy meat, croaker fish noodle soup is naturally one of the most prominent and authentic Shanghai dishes. Boiled for hours from fish bones, the broth is exceptionally creamy and flavourful. This bowl of springy noodles in a golden broth filled with chunks of yellow croaker is one of Shanghai's most delicious bowls of noodles that have cognoscenti coming back over and over.
Where you can try them: Xian De Lai
Address: 46 Yunnan Nan Road, Huangpu, Shanghai
---
8. Stir-Fried Rice Cake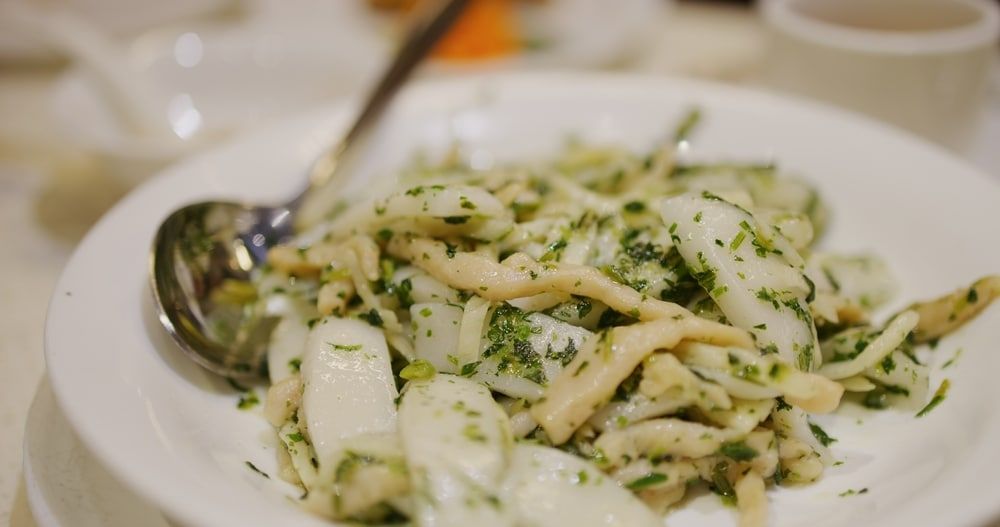 Rice cakes are such a staple food item in the Chinese food scene, that most people would describe anything with a pliable or springy texture to rice cakes, regardless if the item is edible or not. Delightfully chewy rice cakes, or nian gao, are made from packed glutinous rice. Simple yet sensational, rice cakes in Shanghai are stir-fried in a sweet brown sauce and typically paired with shredded pork, sliced carrots, and scallion. Stir-fried rice cake was originally a traditional dish served during Chinese New Year. However, with its irresistible charms, people now enjoy this tasty Shanghainese plate on a regular basis. Give it a try for this sensational Shanghai dish can definitely open up a whole new world of authentic Shanghainese cuisine in your foodie encyclopaedia.
Where you can try them: Xie Huang Yu
Address: 200 Taicang Road, Huangpu, Shanghai
---
9. Steamed Hairy Crab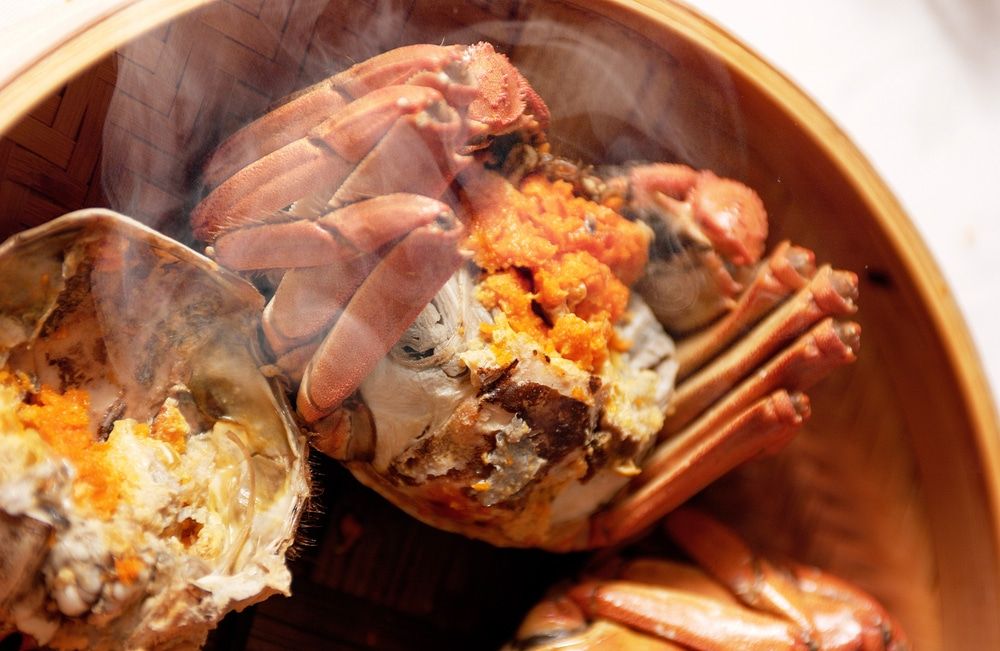 Shanghai's famed steamed crab uses a specific species of crab which the locals refer to as "big sluice crab". These crabs are found in freshwater rivers and lakes in limited parts of China and are only available in the late fall and early winter. This delicacy is such an adored seasonal speciality that eateries serving them usually have refrigerators shelved with the crustaceans tightly tied with ropes or strings on display. Steamed hairy crabs are not just sought after for their tender white meat but also prized for their roes and insides. While you might have to roll your sleeves up and dress the crabs, its fresh yet bold flavours are certainly worth the work. Placed in bamboo containers, steamed till cooked, and the hairy crabs are ready to be served. Do not let the seemingly simple procedures fool you. Since this seasonal catch is of such high quality and at peak vitality, adding too much spice and seasoning will only mask the freshness and sweetness of the shellfish. With that being said, this world-renowned Shanghai dish is usually served with vinegar on the side for the condiment complements the exquisite taste and buttery texture of hairy crabs perfectly.
Where you can try them: Wang Bao He
Address: 603 Fuzhou Road, Huangpu, Shanghai
---
10. Osmanthus Cake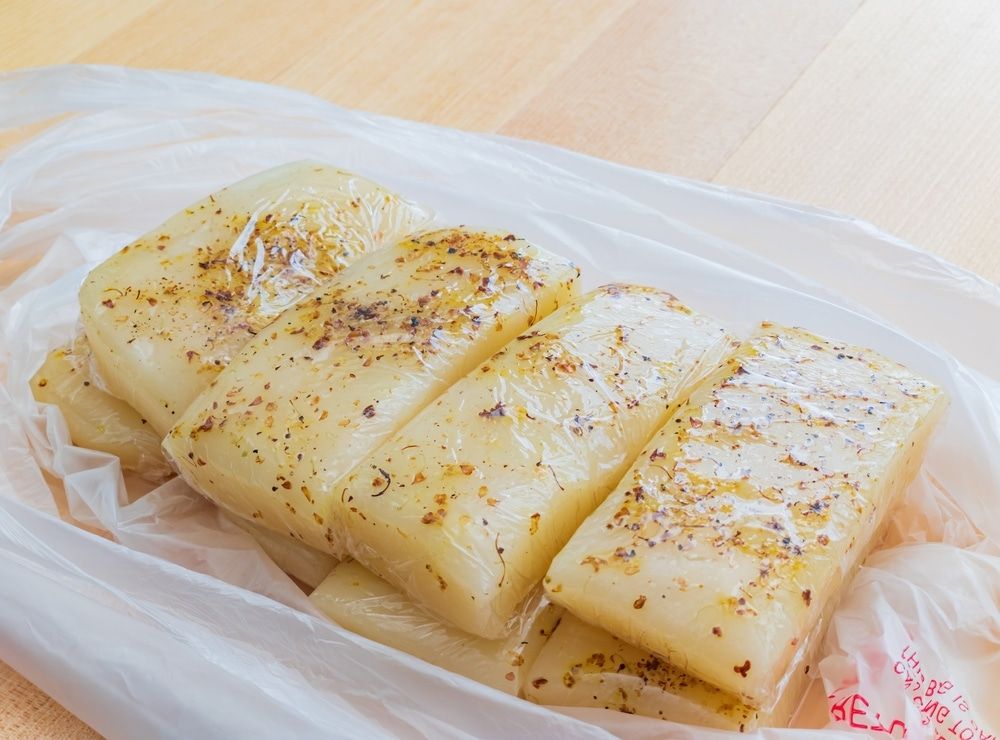 Herbs and flowers have long been integral ingredients in cuisines all around China. While the fragrant flower of osmanthus can be found in a few Chinese desserts, it is the Shanghainese osmanthus cakes, or osmanthus puddings, that, well, takes the cake. Unlike the osmanthus puddings found in other regions, which are often clear jelly-like and do not have a sticky consistency, the Shanghainese variation is interestingly different. These traditional cakes are referred to by locals as "pulled cakes", as they are rather stretchy and chewy compared with other sugary Chinese puddings. The Shanghai osmanthus cakes are also softer and stickier, thanks to the generous use of glutinous rice flour. With its uniquely delightful texture and sweetly scented taste, it is not hard to see why osmanthus cakes remain a local favourite among all other Shanghai foods. This famous Shanghai snack has managed to capture even the heart of former US president Bill Clinton. When visiting Shanghai in 1998, the former president was so impressed by the aesthetically pleasing dessert that despite having his chopsticks skills challenged by its stickiness and having to ask for a new pair of chopsticks 3 times, Mr Clinton insisted on finishing these elegant cubes.
Where you can try them: Lvbo Langxinlou
Address: 10 Yuyuanxin Road, Huangpu, Shanghai
---
Experience Shanghai With Lanson Place
A convenient spot for cosy relaxation and tranquillity to cover from food comas is just what you need in the never-sleeping city of Shanghai. Located in Shanghai's most prominent commercial and business district of Puxi, Lanson Place Aroma Garden is the very place that connects you to Shanghai's finest. Sitting above a metro station with access to two metro lines, Lanson Place Aroma Garden guarantees your adventures to find the local delicacies breezy and effortless. Equally elegant and convenient, you can taste, shop, and experience the unique flavours of Shanghai at Lanson Place Parkside with the trendy Xintiandi district right at your doorstep. Located in the exciting Huangpu district, featuring many European-style villas and buildings from the early 20th century, Lanson Place Parkside offers peaceful seclusion in Shanghai's rising hotspots with plenty of popular dining options and entertainment hubs.